Newspaper review: 'Shocking' Hillsborough report absorbed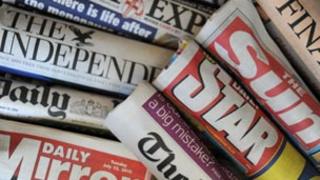 Shocking, sickening, excoriating - just some of the words used to sum up the Hillsborough report on the deaths of 96 Liverpool football fans in 1989.
The Daily Express calls it "the most shaming account of failings and dishonesty by the civil authories in living memory".
The Independent says it is a "political, legal and social milestone" and its chief sports writer James Lawton - who was at Hillsborough on that fateful day - said there was a time when it seemed the raw anger would never go away.
The Times calls the report a complete vindication of the 23-year battle by the families of the victims.
The front page of the Daily Mail shows tiny photos of all 96 victims of the Hillsborough disaster.
"Finally their families know the truth, now will they get justice?" it asks.
The Daily Mirror wants the former Conservative MP Sir Irvine Patnick to be stripped of his knighthood after the report said he was one of the sources of false stories about fans' behaviour.
One of the most closely watched front pages today is that of the Sun.
'Heartfelt apology'
In 1989 it published a front page headlined "The Truth" that blamed Liverpool fans for the tragedy and claimed they had urinated on police and stolen from victims.
Today it prints "The Real Truth" and issues an apology, saying its story was inaccurate and grossly insensitive.
"The people of Liverpool may never forgive us but all we can do is offer an unreserved and heartfelt apology," it adds.
The Financial Times leads with a corporate merger which could reshape the global defence industry if it goes ahead - BAE Systems and European aerospace firm EADS.
The paper says BAE will have to convince its shareholders of the wisdom of a deal which could jeopardise its close links to the Pentagon.
The Communities Secretary, Eric Pickles, has written an article for the Daily Telegraph in which he says churches have "legitimate concerns" about being forced to conduct same sex marriage ceremonies.
He writes: "The interpretation of human rights laws cuts both ways: just as we have resisted gold-plating made in the name of religion, so we must resist spurious legal challenges against religion.
"Nor should we allow equality laws to open the door to moral relativism and reduce established religion to the equivalent status of any other belief."