Police officer killings: What media has to say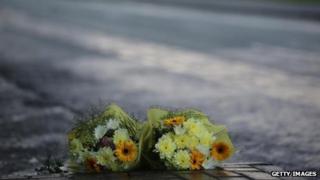 Two unarmed police officers, PC Nicola Hughes, 23, and PC Fiona Bone, 32, have been killed in a gun and grenade attack in Greater Manchester, after apparently being lured by a hoax burglary report.
News of the double murder has prompted widespread reaction from commentators and pundits, and a renewed debate over whether UK police should carry weapons.
Sir Hugh Orde, president of the Association of Chief Police Officers, says "guns don't necessarily solve the problem" but opinion remains divided.
UK newspapers
Although some police are in favour of carrying firearms, there is little appetite in the service for this to become routine. The evidence from the United States, where the police are armed, is that there is a significant level of accidental death and injury from "blue on blue" shootings. Police chiefs also fear that the routine arming of officers could "raise the stakes", leading to more criminals wanting to be armed. Gun-crime experts say that the introduction of more firearms would create the risk of police officers having their weapons stolen.
To what extent this factor is relevant in the tragic murders of Fiona Bone and Nicola Hughes is yet to fully emerge. But the assumed moral superiority of the anti-capital punishment brigade has seldom seemed so misplaced as it does today... This newspaper is unafraid to declare that the brutal killers of brave police officers deserve to be hanged and that in a society with more moral courage than ours this is the course that justice would follow.
These terrible killings show the everyday courage that policing entails, at a time when the force's reputation is at a low point... There are often calls for a return of the death penalty when a police officer is killed and for officers to be routinely armed. They should be resisted. The two young women officers who died in Manchester represented the police service as it can be and at its bravest, and it would be a poor memorial to their courage to use their deaths for narrow political ends.
This tragedy is a painful reminder that officers like Fiona and Nicola put themselves at risk every day to protect the decent, law-abiding people of Britain... These senseless deaths will once again fuel the debate over whether our officers should routinely carry guns for their own protection. But today, let us simply honour their sacrifice and bravery. And grieve for them.
Paul Taylor, Manchester Evening News
It is always shocking to hear of police officers killed in the line of duty. When those police officers are female, there is, to many people, an extra dimension to the horror. Logically, it should not be so... These are difficult emotions to unpick, but does the death of a woman, sworn to uphold the law, touch something primal in us, something beyond reason? ... there is, long after society accepted equality between the sexes, still that nagging, illogical, emotional response to news of a woman killed in action... (People) may muse that this loss tells us much about the awfulness of life, but it also reminds us that men and women in the tough job of policing meet that awfulness on equal terms.
Paul Peachey and Jonathan Brown, The Independent
The policewomen's deaths marked the bloodiest day in British policing for nearly 50 years - the worst atrocity since 1966, when three officers were shot dead while questioning suspects in a van in west London.
UK blogs
Norman Tebbit, The Daily Telegraph
For my part, I would be reluctant to see the routine arming of the police... The carrying of guns would widen the gap which has grown between the police and the public in recent years. That does not mean that the whole question of the deterrent effect of capital punishment should not be re-examined... The hard fact is, as violent criminals know perfectly well, a credible threat that a man will lose his life unless he complies with a demand usually results in obedience.
Inspector Gadget, Police Blogger
Suddenly, as if by magic, Tory politicians love us again as they fall over each other to simper about how dangerous and special this job can be... The press conference was shocking, with the Chief claiming that PC Nicola Hughes, 23, and PC Fiona Bone, 32, were lured to a house by a false burglary call, and then killed with a grenade and a gun in the street. The Chief was awesome, as was Ian Hanson from the GMP Fed. The media questions were a disgrace, trying to blame police as usual.
Twitter
Col Richard Kemp, former British Army commander: "They gave everything. PC Fiona Bone and PC Nicola Hughes, Greater Manchester Police. Killed in the line of duty. http://twitpic.com/aw37pd"
Ash Rathband, son of police officer David Rathband who was shot and blinded by gunman Raoul Moat in 2010: "It's time for Police to be armed in my opinion. Yet again another awful incident :-( #officerdown"
Darren Rathband, twin brother of David Rathband: "When will it stop, another officer killed one fighting for his life..give them more than a bloody piece of plastic and some spray.. Tragic!"