Newspaper review: Ed Miliband comes under scrutiny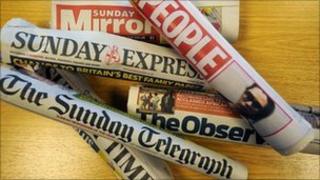 Labour leader Ed Miliband comes under close scrutiny in Sunday's papers the day before his party conference speech.
The Independent on Sunday says: "It may just be time to accept that he could be Britain's next prime minister."
The Sunday Telegraph feels "scepticism about Labour's strength" because Mr Miliband "has yet to make clear exactly what he stands for".
In the Observer, Andrew Rawnsley agrees that "to much of the electorate he is still largely a blank canvas".
'Torn'
A number of papers report a failure to reach agreement by the panel choosing the next Archbishop of Canterbury.
A split over Archbishop of York John Sentamu has led to "stalemate", says the Sunday Times.
Divided over the "original frontrunner", the panel is now "torn between two other candidates", suggests the Mail on Sunday.
The People reports that hospitals are re-hiring nurses axed in recent cuts that "have put their patients at risk".
Veterans
The Mail on Sunday leads with a report that 8,000 soldiers will learn after Christmas they are to lose their jobs.
It asks: "How long will it be before a crisis makes us wish we had kept these carefully trained men and women?"
The Sunday Express reports that more than 100,000 military veterans passed through police custody last year.
Hailing more mental health support for veterans, the paper says: "No-one who serves their country should fall through the cracks on Civvy Street."
'Shame'
The Sunday Times reports that Slough, infamous setting of sitcom The Office, is getting a £1bn makeover "to shed its image as Britain's dreariest town".
The paper quotes the Jimmy Carr joke that to "discover what Slough was like in the 1970s... simply go there now".
The Sun on Sunday reports fury in the Gloucestershire village where JK Rowling grew up after "her new book heaps shame on it".
A village councillor is quoted as saying the author should "steer clear".