Newspaper review: European 'opt out' widely covered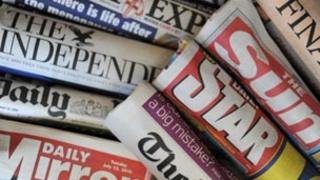 The government's intention to opt out of a range of European crime and justice measures is reported and scrutinised in a number of papers.
The Sun says a British government "finally got off its knees" after "decades of surrender to Brussels".
The Daily Express sees Theresa May's statement as a "first step" towards the EU exit and the Daily Mail hails what it calls a "belated stand".
But the Guardian thinks the government's attitude, in this case, has been one of "posture first, think later".
The signing of a deal on an independence referendum for Scotland is widely reported and analysed.
Some cartoons suggest some of the thoughts raised by Monday's encounter. One, in the Times, shows the Loch Ness Monster chatting to a man in a boat.
The monster says: "I hear a Tory prime minister's been spotted in Scotland."
And a Daily Telegraph cartoon pictures Alex Salmond as Captain Ahab, harpoon in hand, amid the crashing waves, as he pursues the blue whale of independence.
The Sun is not impressed by the BBC's response to the allegations against Jimmy Savile.
"Funny," it comments, "how brave everyone is suddenly being at the BBC in expressing disgust at Jimmy Savile".
The Daily Mirror wants the independence of the probes to remain intact.
Esther Rantzen, in the Daily Express, expresses fears that the scandal could damage the Childline charity she set up, and undermine her work. The paper says she has no cause to blame herself.
A woman who heard a tapping at her front door was, says the Daily Mail, surprised to find a 12in (30cm) tall green parrot perched on her step.
Sarah Purdie tells the Daily Express: "It was definitely the most bizarre day of my life."
The parrot had disappeared from its home two miles away in Plymouth. Bird and owner have been reunited.
The Mail says it was a case of a knock-knock that was no joke - and it asks: "Who's a clever boy then?"