UBS 'rogue' trader Kweku Adoboli 'played god in bank'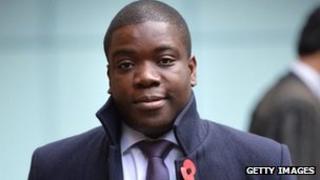 A City of London trader with Swiss bank UBS who is on trial for a £1.4bn fraud has been described as "playing god" when it came to trading.
Kweku Adoboli, 32, of Whitechapel, east London, was "incautious and reckless", prosecutor Sasha Wass said.
"You played god in that bank, tearing up the rules and doing whatever you wanted. Rules were for other people, that was your attitude," she added.
He denies four charges of false accounting and two of fraud.
The alleged offences occurred between October 2008 and September 2011.
Mr Adoboli allegedly blew £1.4bn of the bank's money in "unprotected, unhedged, incautious and reckless" trades, Southwark Crown Court was told.
But Mr Adoboli, the Ghana-born son of a diplomat, has told the jury his senior managers were aware of his actions and encouraged him to take risks.
He has claimed he lost control over his trades during a period of market turbulence last year.
'Star trader'
But Miss Wass said it was Mr Adoboli's wish to be recognised as a "star trader" which exposed UBS to dangerous levels of risk.
Cross-examining him, she said: "Your motivation was about your reputation, your ego and your desire to be a star trader."
He replied: "It's got nothing to do with me, it was all about the organisation. It was because of loyalty to UBS that I worked so hard. The reputation, well, it comes with the territory. I don't have a reputation to talk about."
"You do (have a reputation) but not the one you were aiming for," countered Miss Wass.
Mr Adoboli worked in UBS's global synthetic equities division, buying and selling exchange traded funds (ETFs), which track stocks, bonds and commodities.
The court has heard at one point he stood to lose the bank £7.5bn.
Mr Adoboli said his trading was never questioned when he was profitable, adding: "The questions were only asked when the trades became loss-making. I took the responsibility (for the losses) on my own shoulders, and in doing so I told lies."
Miss Wass pointed out that every witness from UBS had contradicted his version of events.
But Mr Adoboli replied: "Every single witness who has stood on this stand has lied.
"You've seen the size of the machine. You've seen all these people. They're all here just to find me guilty," he said, pointing to the courtroom.
The trial continues.