Police commissioners will have mandate - Theresa May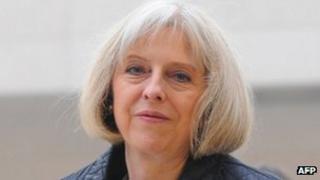 The success of new police commissioners will be determined not by how many people elect them but what they do in office, the home secretary has said.
Theresa May said the commissioners would have an elected mandate to set local policing priorities but would not interfere in criminal investigations.
Elections will be held in all 41 police force areas in England and Wales outside London on 15 November.
Labour has described the elections as a "shambles" and predicted a low turnout.
The home secretary also said police and crime panels would prevent the commissioners from making "improper" decisions over the hiring and firing of chief constables.
'Strategic priorities'
Mrs May said police and crime commissioners (PCCs), which will replace the current police authorities, would be "visible, accessible and accountable" and "a voice for local people".
She told BBC Radio 4's Today programme: "The operational independence of the police means that they will be able to investigate and arrest without fear or favour. That's always been the case and that will continue to be the case.
"There won't be interference in the ability of the police to decide who they investigate or who they arrest.
"The police and crime commissioner will set strategic priorities. Part of the point of them is that if there is a particular concern in an area they will be able to sit down with the chief constable and talk to them about what's happening."
Mrs May was asked whether turnouts of, for example, 10% or 15% would be enough to give commissioners a democratic mandate.
She replied: "I never set a turnout threshold for any election, and I'm not going to do it now. What I do know is that the people who are elected as police and crime commissioners would have something that the current police authorities do not have.
"For the first time ever they will have a democratic mandate for the people for the work that they're doing."
She added: "How we judge the success of the policy of the elected police commissioners is what they do when they're elected and how they work to cut crime in their area."
Election leaflets
Shadow policing minister David Hanson said the government had "failed to sell their flagship policy".
He said: "By holding these new elections in the dark and cold month of November, with little publicity, it is hardly a surprise that the home secretary did not want to comment on turnout.
"The Electoral Reform Society has warned that we are facing the prospect of 'the lowest turnout of any nationwide election in British history' - and if this is the case, then it is the home secretary who is to blame."
On Sunday, shadow home secretary Yvette Cooper accused the government of failing to promote the PCC elections.
"They have made a shambles of this," she said.
"Loads of people across the country still don't know about the elections, what they're for, so I am really worried about what turnout is going to be as a result of this."
The Home Office said it had been "publicising PCCs and their benefits to local communities for more than two years".
Leaflets from the Electoral Commission were sent to 21 million households last month, explaining what the police and crime commissioners will do.
Duties include agreeing budgets, setting strategic priorities and recruiting or dismissing chief constables.
The PCC elections have been described as the biggest shake-up of policing in 50 years.