Dog attacks reach 'frightening' levels says animal charity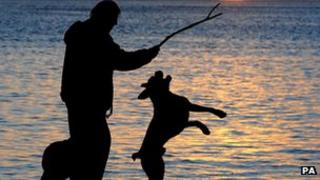 Nearly one in three UK dog owners has reported being bitten or attacked by a dog, according to an animal charity.
The PDSA estimates that 1.3 million dogs in Britain are exhibiting what it describes as "problem behaviour".
It warns that owners who fail to give their dogs adequate obedience training are making the problem worse.
In a survey more than half of owners said they knew someone who had been bitten or attacked by a dog.
A separate study of children found that nearly two thirds reported having been frightened or scared by a dog's behaviour.
The PDSA says problem behaviour in dogs has reached "frightening" levels, and is calling for children to be taught at school how to be responsible owners.
Growling and snarling
The report acknowledges that in some cases dogs have been deliberately trained to be aggressive.
But it says the primary cause of anti-social behaviour is a lack of socialisation and basic obedience training when the dogs are young.
Examples of problem behaviour included growling, snarling and aggression towards people and other animals.
The survey was carried out by YouGov researchers - who contacted nearly 4,000 pet owners on behalf of the PDSA.
They also contacted hundreds of veterinary surgeons and staff in vets' surgeries.
They found that 24% of the owners who said their dogs exhibited problem behaviour were in Northern Ireland, while 20% were in eastern England.
The area with the least reported problem behaviour was Wales, at 8%.
The research also suggested that a majority of dogs, 61%, had not attended training sessions within their first six months of life.
Fatal consequences
PDSA senior veterinary surgeon Sean Wensley said: "Each year there are awful stories of dogs attacking pets and people, sometimes with fatal consequences.
"Tackling this begins with owners and breeders taking full responsibility for their dogs' behaviour, and adequately socialising and training them from a young age.
"It is also essential that young people understand how to be safe around all pets and learn how to become caring and responsible owners in the future."
The research forms part of the second PDSA animal wellbeing report - which also highlights obesity and lack of health care as major problems for many pets.
The PDSA estimates that 18.5 million dogs, cats and rabbits are being fed unsuitable diets even though their owners know about the health risks.
And the charity warned that an estimated 11.2 million pets are not vaccinated or neutered leaving them at "serious" risk of developing potentially fatal illnesses.