Diamond Jubilee: Royal couple visit New Zealand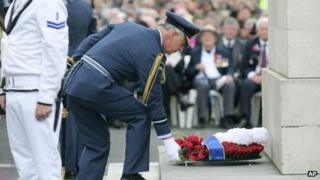 The Prince of Wales and Duchess of Cornwall are continuing their Diamond Jubilee tour of Commonwealth countries by visiting New Zealand.
The royal couple arrived on Saturday evening local time to a ceremonial welcome from a guard of honour.
On Sunday they attended a Armistice Day commemoration service in the grounds of the Auckland War Memorial Museum.
The royal couple's two-week tour has also taken in Papua New Guinea and Australia.
During their visit to the Auckland War Memorial Museum, they met elders from the city's main tribe Ngati Whatua in the building's Hall of Memories, where the names of Auckland's World War II dead are inscribed.
The couple then rubbed noses with their Maori hosts in the traditional greeting.
At 11:00 local time - signifying the moment the guns fell silent on 11 November, 1918 - a RNZAF Boeing 757 flew overhead, signalling the start of the ceremony.
Wreath laid
New Zealand Prime Minister John Key gave an address to the congregation at the Auckland Cenotaph.
He said: "New Zealand's involvement in World War I, alongside our Commonwealth Allies, represented a coming of age for our small nation.
"New Zealand committed over 100,000 troops to the war effort and on Armistice Day 1918 New Zealand had over 58,000 troops in the field."
Mr Key also mentioned the loss of 10 New Zealand soldiers serving in Afghanistan since the country began operations there in 2003.
Hymns were sung and prayers said in remembrance of New Zealand's fallen, before a bugler played the Last Post. This was then followed by two minutes of silence.
Prince Charles was first to lay a wreath and his floral tribute, left on behalf of the Queen, featured his Prince of Wales feathers. It carried his handwritten message: "In grateful and everlasting memory".
The royal couple later met some of New Zealand's war veterans.
Immediately prior to their arrival in New Zealand, the prince and the Duchess of Cornwall spent six days in Australia, ending their visit in the capital Canberra.
So far on their trip, the royals have visited a village in Papua New Guinea, travelled to the Australian Outback and had a day at the races, visiting the Melbourne Cup among other engagements.