Archbishop calls for Anglicans to overcome 'mutual lack of trust'
21 November 2012

From the section

UK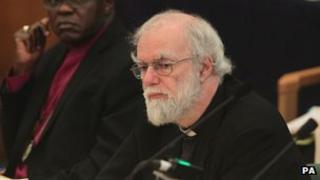 The Archbishop of Canterbury has used his final address in the post to say he hopes the Church of England will overcome a "lack of trust".
Speaking to the Church's general synod, the Most Reverend Rowan Williams - who is stepping down at the end of the year - said a "sad and difficult stand-off" had been reached over women bishops.
On Tuesday the synod voted to reject their ordination.
Dr Williams said he would pray for those divisions to be overcome.
He said: "Quite a lot of the sad and difficult stand-off in which we find ourselves as a synod at the moment seems to come from a mutual lack of trust.
"And for a Christian it's never enough to say 'I don't trust you', unfortunately, because if St John is right, the next question is how do I put trust - and how do I become trustworthy?
"So I hope that connections will go on being made and deepened in that sense, in that context."
Close to splitting
He went on to thank members of the communion for the "generous affection and support" he had received during his time in the job.
Dr Williams, 61, was appointed the 104th Archbishop of Canterbury in 2002. He is leaving the post to become Master of Magdalene College, Cambridge.
Under his leadership, the Church of England and the worldwide Anglican Communion have been riven by controversies over women bishops and gay clergy.
Dr Williams has consistently supported the ordination of women, and attracted criticism over his handling of the abortive appointment of an openly-gay bishop in Reading.
On Tuesday 324 members of the synod voted for women bishops - but its voting rules meant the 122 votes against were enough to block it.
Paying tribute to Dr Williams, Archbishop of York John Sentamu described him as a "remarkable leader" who had presided over a challenging time for the Church.
'Positive motives'
He said: "You have far more friends across the Anglican Communion than you know.
"We will miss your willingness to see the good in everyone, to attribute positive motives even to those who have opposed and maligned you."
Dr Philip Giddings, speaking on behalf of the laity, said Dr Williams had worked with "passion and perseverance" for unity within the Church.
He said: "Archbishop Rowan has been a distinguished servant to this Church, to the wider world, and to the communion; he has served us, I suspect at greater cost than many of us will ever know, particularly in the most difficult of all causes at the moment, the unity of the Church."
Dr Williams will be succeeded by the Bishop of Durham, the Right Reverend Justin Welby - who has said the ordination of women bishops will go ahead.
Speaking earlier on Wednesday, Bishop Welby said: "The Church has voted overwhelmingly in favour of the principle.
"It is a question of finding a way that there is a real consensus that this is the right way forward."