Ministers to relax settlement rules on overseas UK forces veterans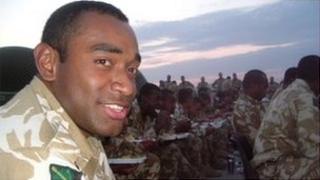 Forces personnel from the Commonwealth and overseas will not be denied settlement in the UK because of "minor" disciplinary offences, it is reported.
Ministers are expected to announce that the rules have been eased on Thursday.
According to Channel 4 News, the change - following a high-profile campaign - will come into force before Christmas.
The Home Office says the case of Fijian ex-soldier Isimeli Baleiwai, who was denied the right to stay in the UK, is being urgently reconsidered.
Former senior military figures had accused the government of letting down personnel who had served Britain in war zones around the world.
'Immense sacrifices'
A Home Office spokesman said: "We recognise the immense sacrifices and contribution made by our armed forces.
"Foreign and Commonwealth military personnel who have served for more than four years can apply to settle here up to two years after leaving the military.
"We have also reviewed the criteria for granting settlement rights - including how military convictions can affect immigration and nationality decisions - and we will be making an announcement shortly."
Baleiwai, a former lance corporal who was in the Army for 13 years and served in Afghanistan, Bosnia, Northern Ireland and Iraq, is married to a British citizen, Kim, and has two children with her.
He applied for British citizenship in March but was refused by the UK Border Agency, apparently because of a disciplinary action stemming from a fight with a colleague in 2010 which the agency considered to be a criminal record.
Under changes in 2010 to the Rehabilitation of Offenders Act 1974, disciplinary offences and crimes under military law automatically carry over into civilian life.
On 28 June, Baleiwai was refused citizenship and learned he would also be refused indefinite leave to Remain because the UKBA believed he was not of "good character".
On 12 July he was informed by letter that he must leave the country by 9 August.
Baleiwai said he had returned from Afghanistan "a mess", suffering from flashbacks and drinking heavily.