Andy Coulson and Rebekah Brooks face Elveden charges in court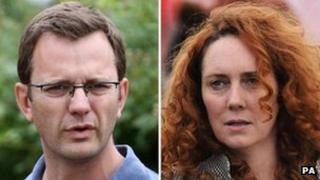 Former News International boss Rebekah Brooks and ex-News of the World editor Andy Coulson have appeared in court to face allegations they paid public officials for information.
They and three others are charged with conspiracy to commit misconduct in public office, as part of a police inquiry codenamed Operation Elveden.
All five defendants were given bail at Westminster Magistrates' Court.
They will appear at Southwark Crown Court on 6 December.
Also charged as part of the Metropolitan Police inquiry are John Kay, the former chief reporter of the Sun, Clive Goodman, the former royal editor of the News of the World, and a Ministry of Defence official, Bettina Jordan-Barber.
Mrs Brooks, of Churchill, Oxfordshire, Mr Kay, of north-west London, and Ms Jordan-Barber were dealt with separately from Mr Goodman and Mr Coulson.
Other inquiries
The allegations against Mr Kay, Mrs Brooks and Ms Jordan-Barber, 39, from Shrivenham, Oxfordshire, are that Ms Jordan-Barber was paid about £100,000 in return for information used to write approximately 60 Sun news articles between 2004 and 2012.
Mr Kay, 69, was the chief reporter at the Sun and Rebekah Brooks his editor at the time of the alleged offences.
The allegations against Mr Coulson, 44 from Kent, and Mr Goodman, 55 from Surrey, relate to authorised payments to public officials in exchange for information, including a royal phone directory known as the "Green Book" that contained contact details for the Royal Family.
The payments are alleged to have been made between 2002 and 2003. Mr Coulson was editor of the News of the World at the time and Mr Goodman was its royal correspondent.
Operation Elveden is being run alongside two other inquiries - Operation Weeting, which is looking at allegations of phone hacking, and Operation Tuleta, an inquiry into accusations of computer hacking and other privacy breaches.