Rebekah Brooks and Andy Coulson appear in court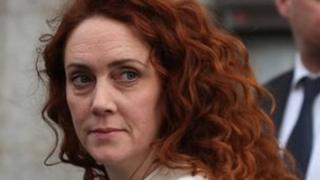 Former News International chief executive Rebekah Brooks has appeared at the Old Bailey accused of making corrupt payments to public officials.
Ex-Downing Street communications chief Andy Coulson, journalists Clive Goodman and John Kay and MoD employee Bettina Jordan-Barber also appeared.
They all sat at the back of the court for the 10-minute hearing.
The judge, Mr Justice Fulford, ordered that they all return on 8 March for a plea and case management hearing.
He said they did not have to go into the dock.
Mrs Brooks, 44, and former Sun chief reporter John Kay, 69, are charged with conspiring to pay Ministry of Defence employee Bettina Jordan-Barber for information.
Operation Elveden
They each face one count of conspiracy to commit misconduct in a public office between 1 January 2004 and 31 January this year.
This relates to allegations that Mrs Jordan-Barber, 39, was paid around £100,000 to provide information to the Sun newspaper.
Mr Coulson, 44, who was editor of the News of the World before moving to Downing Street, and former royal correspondent Mr Goodman, 55, are charged with conspiracy to pay for information.
This includes a royal phone directory known as the "Green Book" which contained contact details for the Royal Family and members of the royal household.
Mr Coulson and Mr Goodman face two counts of conspiracy to commit misconduct in a public office - one between 31 August 2002 and 31 January 2003, and the other between 31 January and 3 June 2005.
The charges relate to the alleged request and authorisation of payments to public officials in exchange for information, including the royal contacts.
Their charges follow the Metropolitan Police investigation into corrupt payments, known as Operation Elveden.
All the defendants are on bail.