Rail companies confirm 3.9% rise in fares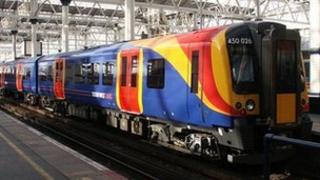 Train fares are to rise in England, Wales and Scotland by 3.9% on average from 2 January, operators confirm.
It comes a week after Passenger Focus researched prices online to discover some season tickets in England will by almost 6.5%.
The biggest rise in 2013 will be 6.46% to £4,940 for an annual ticket from the Kent stations of Ramsgate, Dover Priory and Deal to London.
Last month, the PM intervened to limit average rises to 1% above inflation.
The Retail Prices Index (RPI) measure of inflation as of July 2012 - which stood at 3.2% - plus 3% was initially used to calculate the average rise.
The Association of Train Operating Companies' chief executive, Michael Roberts, said: "Railway funding can only come from the taxpayer or from the passenger, and the government's policy remains that a bigger share must come from people who use the train."
He went on: "We know nobody likes paying more for their journey, especially to go to work.
"Train companies will continue working with the rest of the industry to become more cost efficient, helping to take the pressure off future fare rises."