Newspaper review: Papers ponder Andrew Mitchell 'stitch up'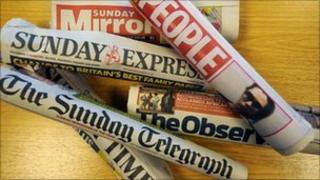 The controversy surrounding former chief whip Andrew Mitchell's row with police officers in Downing Street that led to his resignation makes the lead for several of Sunday's newspapers.
In a Sunday Times article about what he calls his "gate trouble", Mr Mitchell asks: "If this can happen to a senior government minister, then what chance would a youth in Brixton or Wandsworth have?"
It is a point raised in other papers. Writing in the Sunday Mirror, Carole Malone asks: "If the police are capable of stitching up the power brokers, what the hell could they do to us?"
The Mail on Sunday names two officers who it says were involved in the "plebgate" affair, including the policeman who produced the much-quoted log of the incident.
In an article for the Observer, former Police Minister Nick Herbert calls for urgent reforms to restore public trust in the police, in the wake of the scandal.
He believes that while "corruption may not be endemic, neither is it an aberration".
But the Sun says Mr Mitchell's fightback campaign is sparking fury among fellow Conservative MPs.
It says "foul-mouthed" Mr Mitchell is being accused of trying to rewrite history.
Hospital malpractice
The main story in the Sunday Telegraph concerns an NHS hospital which has apologised to patients' families after a catalogue of neglect was exposed.
In one case a patient needing a special diet allegedly starved to death.
The paper says a massive legal action has exposed years of bad practice at the Alexandra Hospital in Redditch, Worcestershire.
Accusations range from nurses taunting patients to staff leaving an elderly woman unwashed for 11 weeks.
The Sunday Mirror says a payday loan firm has sunk to a sickening new low by "hounding" a man for cash while he was in hospital.
According to the paper, he was in a psychiatric ward after he tried to commit suicide over his debts.
The Sunday Express reports that the former Soviet secret service, the KGB, spied on the royal family.
The paper says that Soviet agents bugged Princess Margaret's telephone and listened in on the conversations of other senior royals.