Newspaper review: Reflecting on difficult year for police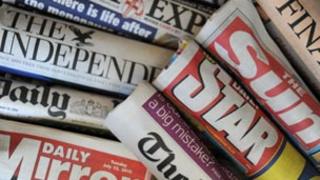 A number of papers end the year by reflecting on a difficult year for the police - and what must be done to improve the force's image.
In the Daily Telegraph's view, an institution that was once the envy of the world is demoralised, riven with politically correct attitudes, hamstrung by red tape and in grave danger of losing its way.
The paper believes that what's needed is a consistent focus on what people want most - a visible police presence on the streets.
For the Daily Mail, figures showing a fall in recorded crime in England and Wales prove that with imaginative leadership and proper use of manpower, the police can provide a more efficient service even in these austere times.
The Guardian reports that the minister overseeing justice reforms in the wake of last year's riots has hinted at a dilution of plans for courts to open at weekends.
Damian Green - the minister for policing and criminal justice - says opening magistrates courts on Saturdays and Sundays may be necessary on only a limited number of occasions.
Instead, extending sittings at either end of the working day may offer better flexibility for witnesses, he adds.
'Second class'
Writers in several papers discuss the safety of women in India, after the death of a medical student who was beaten and gang raped on a bus in Delhi earlier this month.
The Times - in its leader column - finds it shocking that in a country whose democracy has survived for three quarters of a century, its daughters are not safe to travel home on the bus.
But Owen Jones, in the Independent, says rape and sexual violence against women are endemic everywhere, including Britain.
He says that although the voices of women must be heard above all else, men must speak out too.
The Times leads on a proposal by a group of senior politicians in Brussels to give what the paper calls "second class" status to Britain within the European Union.
The Union of European Federalists is to suggest the UK should become an "associate member", staying in the single market, but stripped of its commissioner, MEPs and right of veto.
It says the group's thinking mirrors that of other prominent federalists such as Jacques Delors and Valery Giscard d'Estaing.
Sat-tag
For its lead, the Daily Mail returns to the subject of the Liverpool Care Pathway - the system of withdrawing drugs, fluids and food to allow patients to die.
It produces figures suggesting that up to 60,000 patients die on the pathway each year without giving their consent.
According to the paper, a third of families are also kept in the dark. The figures come from a joint study by the Marie Cure Palliative Care Institute in Liverpool and the Royal College of Physicians.
The Sun's main story is that a new system of "tagging" is to be introduced to track the movements of offenders - using satellite navigation technology.
Probation officers will be able to monitor them simply by following dots across a map on their computer screens. The system will even be able to show someone's precise speed.
Justice Secretary Chris Grayling tells the paper that "satellite tagging" will allow the authorities to keep a much closer watch on high-risk and persistent offenders.
According to the Independent, doctors who unnecessarily prescribe expensive branded drugs to patients when cheaper alternatives are available are facing a crackdown.
Health service managers have identified "inefficient prescribing" by GPs as a key target for savings.
GPs will be forced to justify their prescription costs against newly published data, allowing managers to identify those doctors who continue to prescribe branded drugs.
Night in
The Times pays tribute to its former long-serving editor, William Rees-Mogg, who died on Saturday. It describes him as a great newspaperman who made the Times home to some of the finest writers and reporters of a generation.
It says he also cultivated a diversity of opinion within its columns that was unparalleled in the British press.
The paper recalls he was renowned for insisting that no sentence needed more than 15 words.
There doesn't appear to be much enthusiasm for partying tonight. A survey suggests that 40% of us will be in bed well before midnight.
According to the Independent, many blame the economic gloom for their cheap night in - while others say they feel exhausted after Christmas and want to catch up on sleep before returning to work.
The Telegraph reports that just 18% will be out to ring in the new year.
As many of us make our new year resolutions, the Daily Mirror says it will be hard to beat the one that Judith O'Reilly made this time last year... to do a good deed on each day of 2012.
Her acts of kindnesses included handing over a punnet of raspberries to a stranger; giving money to a group of women who didn't have change to pay for parking; and signing up for the online organ donation register.
It seems the rest of us have more modest resolutions for 2013.
According to the Daily Telegraph, a survey suggests that the most popular resolutions are to read more and to save money.