Army accused of 'wrongly punishing' 1,400 soldiers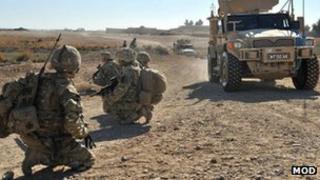 Some 1,400 soldiers who were cautioned by the police may have been unfairly penalised after an error by the Army led to them being wrongly disciplined.
Data obtained by The Times shows the Army failed to implement a change in the law which meant troops could not be punished for the caution by the Army.
Penalties included missed promotion and career-ending dismissals.
The MoD said it became aware of the problem in 2011 and stopped taking such disciplinary action immediately.
The newspaper claims the documents from two Army Justice Board meetings show senior figures in the Army are considering how to "redress the wrong" done to hundreds of soldiers who were subject to measures referred to as "administrative action".
But a senior army officer - speaking to the paper - has accused the Army of a "cover up" and said the mistake has caused "irreparable" damage to the careers of some soldiers and could cost the MoD millions of pounds in compensation payments.
'Reverse sanctions'
An internal briefing note from October 2012 said: "A change in the terms of the Rehabilitation of Offenders Act 1974 means that we can no longer take action against soldiers who receive police cautions and admin action has been incorrectly taken in 1,400 cases between November 2008 and August 2011.
"There are two issues under consideration: Getting the law changed for the future [and] redressing the wrong we have done to those who had admin action taken against them on the basis of a caution."
The documents added that a "strict reading" of the legislation would require the military to "take action on sanctions awarded after November 2008 but also reverse [any] sanction still having effect after that date".
However, the note revealed the MoD had decided it would be "impractical" to do so, and anyone who had subsequently left the military would have to take the issue of recourse to a costly judicial review.
It added: "Since this will not be backdated, the MoD will seek to recompense those who have been 'wronged' based on an ex-gratia payment."
The MoD said claims quoted by the paper that it was deliberately stalling on the cases to reduce the numbers entitled to claim were "completely untrue".
It added: "We are committed to ensuring that service personnel are not disadvantaged by their service.
"As soon as we became aware of this issue in 2011 the Armed Forces stopped taking administrative action against service personnel who receive a police caution."
An exemption order to the 1974 act, which would allow the Army, Royal Navy and RAF to issue their own internal punishments in the case of a police caution, is due to be drafted and placed before Parliament in January.