Antique finds go under the hammer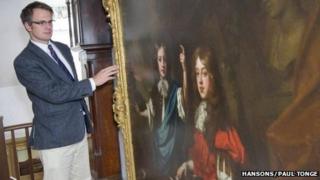 An auction is to take place of antique items dating from the 17th Century, which were recently found in a house near Lichfield in Staffordshire. The BBC's Phil Mackie has been looking at the historical items and hearing how they were discovered.
The auction rooms in Etwall near Derby have been packed from the moment the doors were opened.
The car park is filled with expensive cars. Well-heeled couples, dealers and the plain curious have been coming and going all day. Inside, staff in 17th Century costume mingle with the crowd.
The auction rooms are filled with furniture from the Tudor and Stuart period.
There are ornate, carved, four-poster beds, large oak chests and cabinets, pewter dishes, a dining table and chairs.
And appropriately, from a house in which time had stood still, a large collection of long case clocks dating from the late 17th Century.
The auctioneer, Charles Hanson, was called to the house near Lichfield just before Christmas. The house had been filled with pieces from a bygone era. There was no television and few mod cons.
"The solicitor called and said he thought there might be some antiques," Mr Hanson said.
"I wandered into the house and was blown away."
Cautious estimate
At a cautious estimate, the items might fetch £100,000 at auction but one bidder has already committed nearly £20,000 for just four items.
For Mr Hanson, who is well known from his appearances on television programmes like Antiques Road Trip, this was one of the best moments of his career.
"I jumped up and down on a 1580s bed in jubilation, when they said 'clear this place Charles and get it sold'," he said.
The couple, who spent a lifetime building up the collection, made it a condition of their will that nothing be revealed about them or their reasons for building up the collection.
They had no children and the proceeds of the auction will go to an animal charity.
There has been interest from as far away as Tasmania and Sri Lanka and the first lot will go under the hammer on Saturday morning.