Jimmy Savile scandal: How will it affect future abuse cases?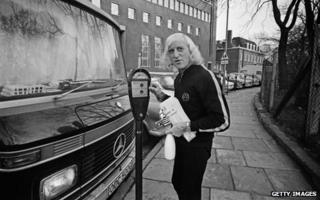 Jimmy Savile's ability to commit hundreds of serious sexual offences inside public institutions, "hiding in plain sight" as Friday's police and NSPCC report on his crimes puts it, seems almost incredible.
And for his victims, it is indeed credibility which is the issue at the heart of this scandal.
A number have said the most important change that can come from the countless inquiries is that future victims of sexual abuse are believed.
The Crown Prosecution Service agrees the approach to credibility in sexual assault cases now has to change.
But there is a difference between being believed by a police officer and being credible in a court of law.
'Adversarial places'
Some accusations of sexual abuse turn out to be untrue or mistaken, as the Lord McAlpine case recently demonstrated.
Police and prosecutors are hoping to draw a line under this affair by stressing their commitment to victims, but apologies and sympathetic statements do not alter the fact that courts are necessarily adversarial and unemotional places.
It would be a mistake to give the impression that the criminal justice system intends giving those making allegations of sexual abuse an easy ride.
That said, there are ways in which prosecutors might improve the way they treat sexual abuse allegations.
In her report for the Crown Prosecution Service, the QC Alison Levitt is critical of the way police and prosecutors dealt with four separate reports of abuse against Savile received by Surrey and Sussex police between 2007 and 2009.
"On the face of it, the allegations made were both serious and credible; the prosecutor should have recognised this and sought to 'build' a prosecution," she concludes.
Her report suggests the prosecutor should not have been so quick to dismiss the prospect of pursuing Savile just because complainants were reluctant to go to court.
"He appears to have treated the obstacles as fatal to the prospects of a prosecution taking place," she writes.
The director of public prosecutions, Keir Starmer, takes the point.
He said: "Police and prosecutors have approached complaints of sexual offences with a degree of caution which is not generally justified.
"Many people feel that for sexual offences, where it is 'one person's word against another's' and there is no or little scientific or other evidence to support the allegation, no prosecution should be brought."
'Rigorous test'
"Unfortunately, this has often resulted in sexual offences being subjected to a different and, in reality, more rigorous test than that applied to other crimes," he added.
An important point with the allegations against Savile received by Surrey police was that there were more than one.
The victims told the Levitt inquiry that had they known they were not the only one to have complained, they would probably have been prepared to give evidence.
So should the detectives have revealed to the women there were others making similar allegations?
In the interests of justice and public safety should they have abandoned normal protocol?
On Friday, Surrey police said their decision not to share accounts between victims had been looked at.
The decision was initially taken "to ensure the integrity of evidence so there could be no suggestion of collusion, contamination or prompting between accounts".
This is a serious concern.
Comparing notes
Courts have been known to throw out cases where multiple victims were alerted to the existence of others.
However, Surrey police said they recognised there was a balance to be struck between the risk of disclosure between victims and the confidence of those victims to give evidence in court.
None of this is easy.
If victims of an abuser contact each other seeking support and then compare notes, they may inadvertently make it impossible to stage a successful prosecution.
There is always a tension between the sympathy people naturally feel for victims of crime and a legal system that must remain dispassionate.
Anyone who needs support on the issues raised in this article can call the NSPCC on 0808 800 5000 or email help@nspcc.org.uk