Viewpoints: Future of the British army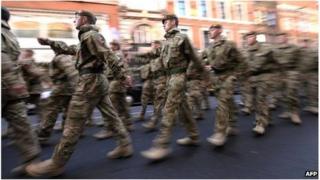 What does the future hold for the British army?
More than 5,000 Army job losses have been announced as part of plans, unveiled last year, to restructure the force and reduce its numbers from 102,000 to 82,000 by 2017 - while at the same time boosting reservist numbers from about 15,000 to 30,000.
BBC News asked defence experts and employers what the future holds for the Army - and its operations.
Sir Malcolm Rifkind, former defence secretary
The government will have announced the latest round of Army job cuts with a very heavy heart. However, although the cuts are undeniably serious, they must be considered with a sense of proportion.
First, the United Kingdom still has the world's fourth largest military expenditure. That is remarkable for a country with only the world's 22nd largest population, and 80th largest territory.
Second, it is more fruitful to compare our military capabilities with those of our allies and potential adversaries of today than with our own capabilities of 30 years ago. The global economic slowdown has put downward pressure on defence budgets across the world.
Take Argentina as a further example. Thirty years after the Falklands War, some raise worries that the squeeze in UK defence spending, coupled with the bellicose rhetoric of a floundering President Fernandez, might lead to renewed hostilities. Such fears are misplaced.
The strategic balance between the two countries has transformed in the intervening decades. Whilst the UK has continually modernised and upgraded its capabilities on the islands, the moribund Argentine armed forces, starved of investment, remain much as they were in the 1980s.
Third, although extremely difficult for those facing redundancy, and given that tough choices are unavoidable, it is preferable to have fewer, but better equipped, military personnel than a greater number of poorly equipped servicemen and women.
Finally, a dynamic, modern and well-equipped military is hugely expensive.
As with any other area of public spending, its long-term health and sustainability depends on the vitality of the British economy.
In September 2011 Adm Mike Mullen, then America's chairman of the joint chiefs of staff, declared that "the single biggest threat to our national security is our debt". The same applies to the United Kingdom - we must accept that troop reductions now will help keep us safer in the long run.
Prof John Gearson, King's College London Centre for Defence Studies
Britain's defence budget has been steadily declining since the 1990s, but with each contraction the same questions arise - can the military maintain the capacity for full-spectrum war fighting with fewer men and women in uniform and a smaller equipment budget?
The latest round of redundancies will reduce numbers by almost a fifth by 2020, but this has not been accompanied by a fundamental rethink on how Britain's armed forces should protect the country and support its national security policy ambitions.
Rather it represents yet another doomed attempt to do the same with less - the "same" being the UK remaining a medium-sized power that "punches above its weight" on the world stage, capable of intervention far beyond its shores if political whim wishes it.
No convincing explanation as to how the armed services will be able to do what they did before with a fifth fewer personnel has been offered.
The suggestion that a planned increase in the number of part-time reservists will make up the shortfall, without this fundamentally changing the likely nature of UK operational capabilities, is not persuasive.
What is actually (if accidentally) implied by these changes is nothing short of a radical shift in the relationship between the military and society, with the potential for a wider skills base within the armed forces as a result of an influx of motivated and (hopefully) properly valued reservists making up a greater percentage of the entire force.
The risk, and it is a considerable risk, is that Britain will no longer be capable of the sort of rapid deployments at anything like the scale seen in the past two decades given difficulties in mobilising reservists and ensuring adequate levels of training in advance of being sent overseas.
Critics of the military interventions of the past decade may welcome this, but it should not be pretended that this is anything but a big change in defence posture.
Defence policymakers will need to catch up with the new realities of these changes and make their political masters understand the implications for what Britain's armed forces can really be asked to do.
Brig Ben Barry, International Institute for Strategic Studies
The military capability of all three armed services is reducing by 20-30%. This and political direction to make more use of reserves led the Army to undertake its most radical reorganisation for 50 years.
The Army 2020 design displays many innovative ideas and structures, reflecting many hard lessons of the Iraq and Afghan wars and the likely challenges of future land operations, particularly fighting "hybrid" enemies and the increasing requirement for urban operations.
The Army's ability to build the capability of foreign armies by partnering and training with them will increase, helping the UK to prevent conflict and get "upstream" of future security challenges.
While new armoured vehicles, drones and helicopters are funded, the project relies on successful withdrawal from Afghanistan, and bringing back the weapons, vehicles and equipment there.
Increasing the effective strength of the reserves is achievable, but will require new thinking, cultural change in both the reserves and the regular Army and gaining the support of employers. While the regular Army is to contract by 2015, the reserves are not due to reach their full capability until 2018.
Decreasing opportunities for adventure and excitement could make it difficult to retain the brightest and best combat-hardened talent and to recruit sufficient new soldiers and officers.
Notwithstanding the reduction in size, the reforms have the potential to transform the Army's remaining capability.
Success depends not only on the programme being properly led, managed, resourced and politically supported, but also on the government not committing the Army to new operations that overmatch its reducing size - particularly while it is still fighting in Afghanistan.
Nick Harvey, former Lib Dem armed forces minister
We know that the conflicts and actions of the 21st Century will be less about the state-on-state warfare which characterised previous centuries, and more about the challenges of global terrorism, climate change, increasingly desperate competition for natural resources and fertile land, natural disasters, pandemics and mass migrations of peoples.
This will require a different mix of forces, with more emphasis on light, flexible, adaptable forces and less on heavy armoured units. It will require the ability to get in and out of diverse terrains quickly, but in enough scale to achieve desired effect.
It will need much more interoperability with allies - especially, but not only, in Europe.
As we look beyond our combat role in Afghanistan, we must prioritise conflict prevention and developing the capacities of carefully selected strategic partners around the world to cope with and pre-empt trouble. This would prevent us from having to land UK forces in every conflict zone.
The massive investment in developing carrier-strike on an unprecedented scale underlines the fact that global reach depends on our sea power.
Equally important are combat ships, and the amphibious capabilities of our world-beating Royal Marines to effect rapid entry to conflict zones, and to get people on and offshore from the sea. Any further cuts in the Marines would fatally undermine our expeditionary capabilities.
Also vital will be increased helicopter capacity, remotely piloted air systems whose endurance and resilience are priceless, and greater investment in the Intelligence, Surveillance, Target Acquisition, and Reconnaissance (Istar) assets.
Almost as important as the headcount of our army is supporting it with all these - as well as modern, protected vehicles.
Competing with all of these for limited defence funding will be a successor to our Trident nuclear deterrent. That is currently set to cost over £100bn to build and operate.
It will be tragic if vital assets we know we will need and would use, end up sacrificed on the altar of replicating our Cold War nuclear capability and national hubris.
John Baron, Conservative MP for Basildon and Billericay
Of the three services, the reductions will hit the Army hardest. In an increasingly uncertain world, when countries not necessarily well-disposed to the West are augmenting their military spending, I would argue this is unwise.
Furthermore, the fact that American focus is shifting away from Europe and towards the Pacific may have implications for us.
The government is convinced the loss of regular battalions - including from my old unit, The Royal Regiment of Fusiliers - will be offset by a corresponding rise in the number of reservists. The plans require the recruitment and training of 30,000 TA soldiers and officers over the next few years.
I suggest it is unwise to axe these regular battalions until we know for sure that the reservists can plug the gap - not only by number, but by expertise.
Even the minister in charge acknowledges the scale of the task ahead. The apparent lack of objective criteria to judge how well - or not - this formidable recruitment drive is going gives further cause for concern.
It will also be key to ensure the Army remains a balanced force, with a full spectrum of capabilities.
Over the past decade, our forces have been shaped by the demands of the counter-insurgency campaigns in Afghanistan and Iraq.
However, the recent French intervention in Mali demonstrates the enduring importance of conventional war-fighting - and that, despite advances in technology, "boots on the ground" remain indispensible.
In future, there will be ever greater importance attached to intelligence-sharing and international collaboration. Global threats require global responses.
The Army will adapt as it always does. But it remains a military fact that the best way to dominate ground is to have troops on the ground.
Kevan Jones, shadow defence minister
The government is taking a huge gamble with the armed forces. It is gambling in relying on reservists to backfill the full-time positions being cut in the Army.
We're still awaiting the exact details of how this reliance on reservists will work, and in the meantime the government is ploughing on with redundancies.
The proposal is the reservists will be deployed as formal units with regular soldiers, with no explanation as to how that will work in practice. This may cause huge morale issues within the Army.
It's important that we train alongside our allies and it's clear that future deployments will be with them.
But while the Anglo-French agreement is welcome, the government is being confused in its approach. It changed its configuration with its new aircraft carriers, first having them as compatible with French aircraft but then changing its mind.
It's clear that costs are driving the government's agenda, rather than what's good for Britain.
Having a lighter, more deployable force is the way forward. It's interesting that one of the RAF's Sentinel surveillance aircraft was deployed to Mali recently, but this is going to be scrapped in 2015. It shows a confused picture from the government.
There has to be a more joined-up approach from the diplomatic perspective. That can be important to make sure we understand a nation's military capability and its mindset. We also need to help with training other nations' military forces.
It's difficult to predict future conflicts, and we need to recognise the type of threats out there. Whether it's cyber, small nuclear or biological threats we need to stop their proliferation and counter them as well.
As long as the Army has a Treasury straitjacket around it, and the straitjacket of the 2010 SDSR, it will be very difficult for senior military figures to deploy the forces that are needed.
Prof Keith Hartley, University of York
Many of the criticisms of Army cuts reflect the response of established interest groups within the Army. Generals favour a larger Army, especially one with all the latest high-technology equipment. Admirals are enthusiasts for aircraft carriers and air marshals favour the latest combat aircraft.
Once the size of the defence budget has been determined, choices are required about its allocation between each of the three armed forces and their contribution to the UK's defence output in the form of peace, protection and security for its citizens.
Defence output in this form is difficult to measure and value - what is the output of UK defence spending and is it a worthwhile investment? Typically, debates about defence reviews focus on defence inputs in terms of the numbers of Army personnel, warships and combat aircraft.
This is the wrong focus - the key issue is the contribution of these various inputs to defence output. In this context, there also needs to be a critical evaluation of the benefits and costs of the UK's world military role. This role costs some 1% of GDP - is this a worthwhile investment?
There are possibilities for substitution between each of the armed forces. Air forces can undertake some of the tasks performed by armies and navies; armies can undertake some tasks usually performed by air forces (e.g. attack helicopters undertaking close air support); and the navy's nuclear forces can replace large-scale conventional forces.
Within the Army, reservists can replace regulars, women can replace men, private contractors can undertake tasks usually performed by military units, and costly equipment can replace personnel.
The substitution principle suggests that the defence debate needs to recognise that RAF and navy forces can substitute for Army forces. Hence, it is misleading to focus on some traditional number of personnel for the size of the Army.
Instead, we need a debate about UK defence output and opportunities for substitution as well as the future of the UK's world military role.
Peter Quentin, Royal United Services Institute
Mali, Algeria, Nigeria - none of them is a new threat, but together they serve as sharp and incredibly timely reminders of the instability present in the world.
If the politicians, given their proclivities for calling upon our armed forces - whether providing training in Mali or security at the Olympics - must cut defence budgets, they must also accept and acknowledge that it comes at greater political risk.
Do our armed forces still have the capability to fulfil all the tasks politicians are certain to set them in the future?
The Army's response to the SDSR in 2010 has made the best of a bad financial situation.
It is trying to deliver maximum capability at far lower force levels - redundancies and reliance on reserves is not through choice.
And the reality is that more constraints are likely to be imposed, with the chancellor's Autumn Statement already eroding baseline spending and a likely coalition Spending Review forming the basis of an effective mini defence review - then attention switches to SDSR15.
So the Army is actually going to be under sustained pressure for some time and it would be fairly naive to hope or promise that it has seen the last of the cuts.
However beautiful small may be, with both manpower and equipment already curtailed and few efficiencies left to be made, it is hard to see how capability won't be compromised.
While defence chiefs must continue dutifully making the best of this bad situation, it also falls to them to place responsibility back on to their political masters and say, "Right, if you choose not to ring fence the defence budget then you have to take it on the chin and admit you are accepting higher risks in our military capability and all that entails for its utility to the national interest and security."
Mike Cherry, Federation of Small Businesses
At the end of 2012 the government said that it would work with employers of reservists and give them more notice before their staff are deployed.
A recent survey by the FSB, which was replied to by 1,836 of our members, suggests one in three - 30% - small businesses is failing to hire reservists from the Army, navy and air force. The support cannot come soon enough.
We have long said that the smallest firms may find it more difficult to be supportive of employing a reservist, especially as each employee makes up such a large proportion of a workforce.
Better communication, information and support that are tailored to the needs of small firms are a must if they are to consider taking one on - 89% of respondents said that they hadn't heard of the Ministry of Defence's Employer Awareness Events.
However, there is an appetite among some small firms to hire a reservist in the future, but there are clear areas the government must address.
The poll shows that 86% of FSB members said that any government support to businesses employing reservists should focus on the specific needs of small and micro firms, rather than big business. Putting the needs of the smallest firms at the heart of reforms would be a good start.
For many businesses, having members of staff who have the right skills for the job is crucial.
One member who runs a coffee roaster wholesale business told us that it took three months to train a member of staff who is a reservist, and took a year before he was proficient at his job. The member said that if he is deployed it could be really difficult to get someone to fill his role.
While small firms are flexible by the nature of their size, they feel that more help to recruit a replacement would be beneficial.
The Ministry of Defence must look to engage with the sector to help provide the assistance needed.