Flood warnings remain as further rain set to sweep in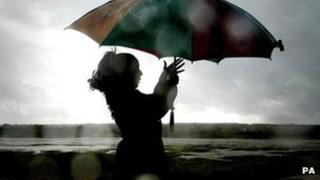 The UK faces further risk of serious flooding this week, as forecasters predict more heavy rain from Monday.
Nearly 50 flood warnings and about 200 alerts are in place across Britain, with south-west England and south Wales expected to be worst hit by showers.
It comes after days of disruption from heavy snow, followed by a rapid thaw that led to flooding in some places.
On Sunday, a canoeist in North Yorkshire died after he was pulled from the swollen Arkle Beck, near Reeth.
The Environment Agency said rain falling on already saturated ground was likely to lead to more disruption this week.
It also warned that properties could flood, particularly in the south-west of England on Tuesday.
It said some river levels were yet to peak.
Spokesman Innes Thomson told the BBC: "We've already got flooded fields, we've got localised flooding, we've got high ground water, we've got spring tides this week coming.
"So we've actually got a complete cocktail of issues and concerns for us to keep an eye on."
In England and Wales, there are 46 flood warnings - meaning flooding is expected with "immediate action required" - and 207 flood alerts, which mean flooding "is possible - be prepared".
There are no flood warnings in Scotland, although there are 13 flood alerts.
The BBC's Peter Gibbs said spells of rain and strong winds would remain the key weather themes for the UK in the week ahead.
Heavy rain could cause problems in south-west England and Wales later in the day, falling on saturated grounds, he said.
Rain is then forecast for most of the UK by Monday evening and into Tuesday.
The Met Office has a issued yellow "be aware" warning - for Monday afternoon and evening - for heavy rain in south-west England and south-west Scotland.
A further yellow warning for heavy rain has been issued for the whole of Tuesday for south-west England, the West Midlands and parts of Wales.
The enhanced content on this page requires Javascript and Flash Player 9
Map Key
Land
Cloud
Lakes, Rivers & Sea
Fog
Light
Heavy
Frost
Light
Heavy
Pressure Fronts
Cold
Warm
Occluded
Rain
Light
Heavy
Extreme
Snow
Light
Heavy
Temperature tab only
Temperature (°C)
More details from BBC Weather