Newspaper review: High speed rail 'battle lines' drawn up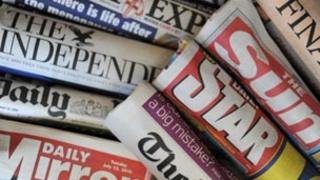 The government's imminent announcement on the next phase of its high-speed train line is unpicked by the papers.
It will herald "a drawing of battle lines" with the "Nimbys of Middle England", suggests the Daily Mail..
The Guardian reports Chancellor George Osborne - whose own constituency lies on the expected route - has been a crucial proponent of the HS2 scheme.
It says he hopes it will generate the same business benefits seen in Japan with its bullet trains.
The Financial Times says the line has "strong backing" from businesses in the Midlands and the North. .
But Andrew Bridgen, Conservative MP for north-west Leicestershire, tells the paper he fears the scheme could actually draw investment away from the regions and towards the South East.
In the Independent, the campaign group, the TaxPayers' Alliance, describes the scheme as a "white elephant", and no substitute for "a genuine plan for growth".
Meanwhile, one resident of Alderley Edge in Cheshire tells the Times there will not be "a single inch" of track someone is not going to complain about: "It could take 150 years to build".
'Lampoon of Britishness'
Communities Secretary Eric Pickles is applauded by the Daily Telegraph for demanding that local authorities which increase their council tax by more than 2% should hold referendums.
In an editorial, the paper says many councils are "bloated and inefficient", adding a check on "town-hall profligacy" is "long-overdue".
The latest Home Office citizenship handbook, which goes on sale today, receives much coverage, not least in the Daily Express..
It is welcomed by the Sun, which says that, rather than focusing on diversity and human rights, this edition will help newcomers understand what makes British people "tick".
According to the Guardian, migrant groups have attacked the textbook, which forms the basis of the citizenship test, as a "lampoon of Britishness".
The Independent is impressed by the sheer breadth of knowledge expected as the book takes readers on a "whirlwind" historical tour of Britain, from Stone Age hunter-gatherers to Morecambe and Wise, "skipping lightly through the Black Death and Tudor England".