Operation Elveden: Prison officer gets bail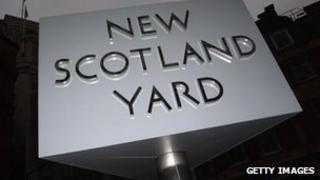 A prison officer arrested on suspicion of conspiracy to cause misconduct in a public office has been given bail.
The 40-year-old man was arrested by officers from Operation Elveden, the Met Police's inquiry into allegations of inappropriate payments to police and public officials by journalists.
He was held at his home in Sittingbourne, Kent, and was interviewed at a Kent police station.
He is the 58th person to be arrested as part of Operation Elveden.
The man was given bail to a date in March.
The operation is running alongside Operation Weeting, the Met's phone-hacking inquiry, and is being supervised by the Independent Police Complaints Commission.
Police said the man was arrested on suspicion of conspiracy to cause misconduct in a public office, contrary to Section 1 of the Criminal Law Act 1977.
The Met said the arrest was the result of information provided to police by News Corporation's management and standards committee, which was set up in the wake of the phone-hacking scandal that led to the closure of the News of the World newspaper.
Police said in a statement: "It relates to suspected payments to a public official and is not about seeking journalists to reveal confidential sources in relation to information that has been obtained legitimately."
Old Bailey
Last week a former healthcare worker was arrested at his home in Merseyside as part of Operation Elveden.
The 59-year-old was held on suspicion of offences including misconduct in a public office contrary to common law. He was later bailed until May.
Seven people have been charged in relation to the operation, including former News International chief executive Rebekah Brooks, Sun chief reporter John Kay and Ministry of Defence employee Bettina Jordan-Barber.
They are due to appear at the Old Bailey for a plea hearing on 8 March.
Meanwhile, earlier this month Det Ch Insp April Casburn, 53, of the Met Police was the first person to be convicted as a result of Operation Elveden. She was convicted of trying to sell information on the phone-hacking probe to the News of the World.
She will be sentenced at the Old Bailey on 1 February.