Jailed hoax bomber 'researched explosives' after release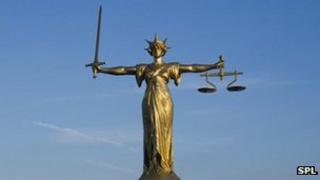 A man previously jailed for preparing acts of terrorism began researching bombs again soon after leaving prison, a jury at the Old Bailey has heard.
Nicholas Roddis, 27, is alleged to have searched for instructions on the internet and to have stolen explosives from a railway goods yard in Doncaster.
He was jailed in 2008 for seven years after leaving a hoax bomb on a bus in Rotherham, South Yorkshire.
Roddis denies one charge of preparing for an act of terrorism in 2011.
Prosecutor Duncan Penny told the court that Roddis, of Maltby, Rotherham, had been jailed previously for preparing the hoax bomb and gathering other material for an act of terrorism.
When he boarded a bus in 2007, carrying his hoax device, he was wearing a false beard, moustache and glasses that the driver had thought was fancy dress.
He left a note in incorrect Arabic, declaring: "Britain must be punished."
Fog signals
Mr Penny said the device caused panic and an army bomb disposal unit came from Nottingham to conduct a controlled explosion.
The jury heard that following his release on licence in 2011, Roddis returned to researching and acquiring bomb ingredients in and around Rotherham.
In August 2011, Roddis disguised himself as a railway worker and stole small explosives, known as fog signals, from a locomotive in a goods yard in Doncaster, it is alleged.
Mr Penny said that it would have been difficult to incorporate the signals into a homemade bomb. But he added the defendant had admitted stealing them in the past to amuse himself with small explosions.
"The defendant sought to conceal his activities by using false identities in order to conduct internet research," said Mr Penny.
"He used computers in public libraries... to conduct research on search engines and to view video clips on YouTube which were concerned with the manufacture of explosives.
"He used deception to gain access to the computers... in the full knowledge that he was prohibited by the conditions of his release on licence from accessing the internet."
In police interviews, Roddis denied researching explosives online, including looking for information on ingredients used by the 2005 London bombers.
The trial continues.