Mali conflict: MP seeks Commons vote on UK troop deployments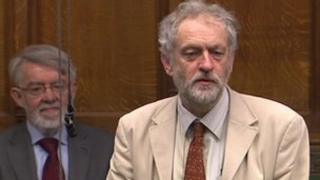 MPs should be given a vote on the UK's "increasing" military involvement in Mali, a Labour backbencher has said.
Jeremy Corbyn said he feared Britain was in danger of being sucked into an "unpleasant, long-drawn-out, almost guerrilla like conflict".
The government is to deploy about 330 military personnel to Mali and West Africa to support French forces.
Commons Leader Andrew Lansley said ministers would keep MPs updated on British action in North Africa.
The 330 military personnel comprise 200 soldiers going to West African nations, 40 military advisers to Mali, and 90 support crew for a C-17 transport aircraft and a Sentinel R1 surveillance plane.
'Very limited' intervention
Speaking in the Commons, Mr Corbyn said: "The precedent was set of a vote before the Iraq invasion in 2003.
"It is now the norm in Parliament that the significant deployment of British troops in a war requires the consent of Parliament."
The government, he said, should "recognise this" and set aside time for a debate, on an "votable motion". His calls were backed by Paul Flynn, the Labour MP for Newport West.
But Mr Lansley said UK troops were not engaged in combat in Mali and therefore the convention for a formal vote in Parliament on decisions to go to war did not apply.
He said the situation would be kept under review.
"It is not our intention to deploy combat troops. We are very clear about the risks of mission-creep... and we have defined very carefully the support that we are willing and able to provide to the French and Malian authorities."
He added: "I would not carry the analogy to the point where the convention is engaged in the sense of a requirement for a debate and a vote."
Speaking to the BBC earlier today Defence Secretary Philip Hammond suggested the British military intervention in Mali would last only a few months, but he said he expected Britain would continue to provide intelligence after that period.
He said British intervention in Mali would remain "very limited" but he told the BBC he could not rule out a slight increase in the number of British troops deployed to West Africa.