Papers focus on gay marriage row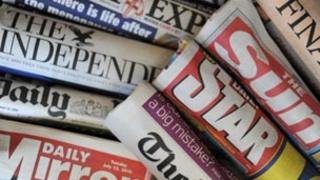 Conservatives are deserting the party in droves because of David Cameron's support for gay marriage, according to the Times.
MPs have told the paper activists are resigning or refusing to renew their membership in large numbers.
The Guardian says the prime minister has "slapped down" traditionalists who wanted a commitment to help married couples - through the introduction of a tax break in the Budget - to appease back-bench critics before next week's Commons vote on same-sex marriages.
The Daily Express focuses on the pledge that the tax break will be introduced before the next election.
"Help at last," it says, "for married couples".
Business banking
According to the Independent, banks have been handed a "free pass" allowing them to get out of paying compensation on the biggest claims by businesses which were mis-sold specialist insurance products, known as interest rate swaps.
On Thursday, the Financial Services Authority said more than 90% of the deals it looked at had been mis-sold.
But the Independent says it has discovered a cap has been introduced on compensation claims, which excludes any swaps worth more than £10m.
Horse meat
One of the owners of a Polish company under suspicion in the horsemeat scandal has told the Daily Telegraph the firm is still selling beef for beefburgers to at least six British companies.
He refused to name them - and insisted that his company was not the source of the horse meat.
Red Arrows
The Daily Mirror claims the Red Arrows face being grounded as part of what the paper calls "a new round of savage defence cuts".
"Military chiefs," the paper says, "fear the iconic RAF display team may have to be axed if spending is slashed further by David Cameron's Tory-led coalition".
The Sun has that story too - and says the Trooping the Colour ceremony is also threatened.
It juxtaposes that with a report telling readers Mr Cameron vowed yesterday to continue sending billions of pounds abroad in foreign aid.
"It's not what the country wants to hear," the paper says. "Mr Cameron wasn't elected to save the world; he was elected to save Britain".
Smoking fine
Finally, the Sun tells how Haringey Council in North London fined a driver for breaking anti-smoking laws - even though he's a non-smoker.
Freddie Beasley had just picked up a company van when he was stopped in a police and council operation.
He was fined £200 for not having a "no smoking" sticker on the dashboard.
His angry boss tells the Sun: "The irony is if he'd been smoking, he'd have been fined just £50."