Dead child identities: Met officer refuses to apologise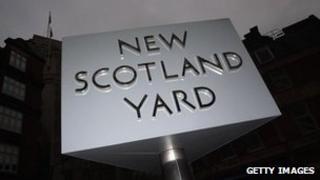 A senior Scotland Yard officer has refused to apologise over claims that undercover police assumed the identities of dead children.
Deputy Assistant Commissioner Patricia Gallan also did not promise the parents concerned would be informed.
Ms Gallan told MPs she was "deeply concerned", however, by reports of the use of dead children's identities.
Lord Macdonald, an ex-director of public prosecutions, has called for an inquiry into the practice.
The allegations mainly relate to the operations of the Met's special demonstration squad in the 1980s.
The practice has been known about for at least a decade, but the latest scrutiny was prompted by a recent article in the Guardian reporting that an estimated 80 members of the squad used the identities of dead children.
Giving evidence at the Home Affairs Select Committee, Ms Gallan said she understood why people were very distressed and would "seriously consider" informing families if the identities of their loved ones had been used.
Committee chairman Keith Vaz pressed the deputy assistant commissioner for an apology to the parents whose children may be involved.
But she said: "I've got to examine all the evidence, keep an open mind and at the appropriate time statements will be made.
"I do absolutely appreciate the concerns. I do understand the upset and why people are very distressed but until I know all the facts you're asking me to get ahead."
When asked if the parents of the dead children allegedly involved should be informed, Ms Gallan said: "I think it's important that we find out all the circumstances and find out if it's actually accurate.
"We wouldn't want to cause more hurt to anyone involved. We need to get to the accuracy of it."
Ms Gallan said she had been told in September last year about one case - but had not informed the parents - and had "very recently" received a complaint of a second case which was being investigated.
She went on to say the practice was "not sanctioned within the Metropolitan Police or any other police force" and an investigation into what happened was under way.
Mr Vaz said: "I'm disappointed that you've not used the opportunity to be able to send out a message to those parents who have children who may have had their identity being used that the Met is actually sorry that this has happened.
"But also you've known about one case since September and despite the fact we've spent £1.25 million, and you have 30 officers and staff working on the case, you still haven't go to the bottom of why this dead child's identity has been used."
The row comes two years after an undercover officer was revealed as having infiltrated environmental protests groups where he had relationships with two women.
The Met said the alleged practice was not something that was "currently" authorised.
According to the Guardian report, deceased children's identities were used by the undercover officers - without consultation with the parents - because they would stand up to scrutiny if birth records were checked.
Inquiry costs
Lord Macdonald had previously said it was "completely inappropriate" for officers to use a dead child's identity, or form sexual relationships with people they were gathering information on, and called for a public inquiry.
The committee was told that Operation Herne - the Scotland Yard inquiry into the activities of undercover police in two units, the Special Demonstration Squad and the National Public Order Intelligence Unit - had cost £1.2 million so far.
It is examining 50,000 documents - some of them secret - spanning 40 years from 1968. The operation is staffed by 20 police officers and 11 civilian staff.
It is also looking at allegations that undercover police officers had sexual relationships with people from protest groups they had infiltrated.