Child sex offending warning signs 'missed'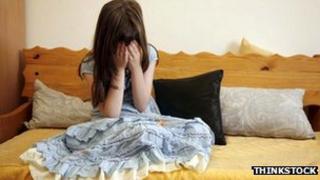 Some social workers, teachers and police fail to combat sexual offending by children because they miss warning signs, according to a report.
Probation inspectors in England and Wales found earlier inappropriate behaviour treated with "disbelief".
Government officials said they were "driving up the skills and experience of social workers".
The report studied 24 teenage boys with convictions ranging from indecent assaults to rape.
Inspectors visited six youth-offending teams in London's Tower Hamlets, Sheffield, Cornwall, Birmingham, Lancashire and Vale of Glamorgan.
They found opportunities to intervene when the offenders were younger had been missed in nearly every case.
Chief inspector of probation Liz Calderbank said: "The most shocking finding was that a third of cases had come to the notice of the authorities - usually either schools or social services - previously. These concerns were not acted on, dismissed, minimised or ignored.
"This, to us, represents a lost opportunity, both for the children themselves and their potential victims."
The inspectorate said questions were not being asked about why the children had been displaying sexual behaviour, some from quite a young age.
In one case, a boy had been displaying inappropriate behaviour from the age of eight before he went on to be convicted of a sexual offence at 16.
Court delays
The cases were examined of 24 offenders, aged between 13 and 18, who between them had more than 60 convictions for sexual offences.
Almost all the crimes were committed against children.
The inspectors found that in all but one of the cases there had been issues relating to the boys' physical or mental health, 21 featured concerns relating to the family environment, and seven of the boys had previous offences.
One case involved a boy known to social services because he had been subjected to neglect and physical abuse, while a family history of sexual abuse and the presence of adult sex offenders in his home suggested he had also been sexually abused.
The boy told inspectors: "I should have been looked after from the age of 10 and then I wouldn't have done what I did."
The report also criticised the "unacceptably long" delays in bringing cases involving child sex offenders to court - on average eight months from allegation to sentence.
It said that during that time there was usually no work done with the alleged perpetrator and no support for the victim.
About 12% of sexual offences are committed by children aged between 10 and 17 years old.
The report did, however, single out some projects where "excellent interventions" were delivered, including the Barnardo's Cymru Taith service in south Wales.
Children's services manager Denise Moultrie said she believed many professionals were reluctant to label a young person as a sex offender.
"They might think that it might just be experimentation or that it will just go away if they don't focus on it," she said.
"The danger in that is that it may not go away. There needs to be more awareness-raising training for professionals. A lot of things get called 'experimentation' but that should be a mutual, happy experience between two people.
"But it shouldn't be that one person has more power over the other and there should not be coercion of a more vulnerable person."
A government spokeswoman said the number of young people cautioned or convicted for sexual offences had fallen by almost a quarter in five years.
She added: "However, these young people remain some of the most challenging in society and most have extremely complex issues and needs.
"We are driving up the skills and experience of social workers so they are better able to identify the warning signs much more quickly as well as strengthening guidance on child protection."