Stafford Hospital report dominates headlines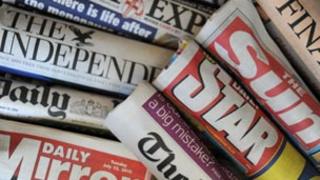 The findings of a damning report on failings at Stafford Hospital are analysed in Thursday's newspapers.
The Daily Mail says the horror stories which have emerged reveal that a health service admired as the pride of Britain is also capable of "inhumanity".
The Daily Mirror remarks that "neglect, incompetence and an obsession with financial targets" resulted in the needless deaths.
And the Sun regrets that no-one was named and shamed in the report.
The Financial Times focuses on the announcement that RBS is to pay almost £400m in fines for its role in rigging the inter-bank lending rate, or Libor.
The paper says a series of lurid emails laid bare a culture where employees would readily alter rates in exchange for steak dinners.
"Caught with their snouts in the trough," is the Daily Mirror's headline.
"Greed and dishonesty laid bare," is the Guardian's verdict.
The Times talks of Archbishop of Canterbury Justin Welby "taking a stand against the moneylenders" during exchanges with senior HSBC executives.
They came while he was taking evidence as a member of the Parliamentary Commission on Banking Standards.
The Guardian also describes the encounter.
It says he accused the banks of hypocrisy in continuing to pay their staff big bonuses while insisting they were undergoing a cultural overhaul.
The Financial Times says David Cameron has "toned down the rhetoric" as he travels to Brussels for the latest talks on the EU budget.
It says the prime minister wants to reassure his fellow leaders that he "is not out to wreck the union".
The Daily Express hails the "wonder strike" by Frank Lampard that sealed England's 2-1 victory over Brazil.
The Independent says "Lampard silences the samba", while the Daily Star's headline is simply "Brazil-iant".