Vicky Pryce 'very hurt' over Chris Huhne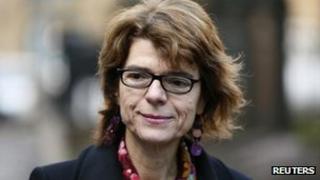 Chris Huhne's ex-wife Vicky Pryce was "a very hurt woman" who felt he "did not deserve to be in the position of responsibility" as an MP, a journalist has told Southwark Crown Court.
Sunday Times political editor Isabel Oakeshott said Ms Pryce revealed how she had taken his speeding points when the women met after the couple split.
Ms Pryce denies perverting the course of justice.
Huhne admitted the same charge on Monday and has resigned as an MP.
Ms Pryce is now giving evidence in court.
Ex-Liberal Democrat cabinet minister Huhne and Ms Pryce, an economist, were charged over an incident in March 2003 when his car was caught by a speed camera on the motorway between Stansted Airport in Essex and London.
It is alleged that between 12 March and 21 May 2003, Ms Pryce falsely informed police that she was the driver of the car so Huhne could avoid prosecution.
'Serious allegation'
Ms Oakeshott told the court she had met Ms Pryce in the queue for a Lib Dem conference in 2010 after the couple had separated over Huhne's extra-marital affair.
"Vicky Pryce had been a senior government economist so she was interesting in her own right to me for her views on the economy," she said.
"Secondly, she was at that time still married, although their relationship had disintegrated, to a cabinet minister, so I was interested in her relationship to him and how it had broken down...
"We talked a bit about the breakdown of her marriage and during that conversation she mentioned to me towards the end of the meal that she had taken speeding points on behalf of her husband, she had been pressured to do that.
"Obviously that's a very serious allegation against a serving government minister."
The jury has been told Ms Pryce planned to use a special legal defence available only to wives, saying that she was coerced by him into taking the points.
Ms Oakeshott told the jury in a later conversation Ms Pryce said the first she had known about the speeding points was when she received a letter saying she had been nominated as the driver by the owner of the vehicle.
Ms Pryce "had been shocked to receive this letter because she had not been driving the car at the time, and she didn't even know where that area was where the speeding offence had taken place", she said.
"He had filled the form out nominating her without any consultation with her. This had had put her in an extremely difficult situation and she was extremely upset about it," said Ms Oakeshott.
"She was very clear that he had pressurised her into signing the form."
'Expose his character'
The pair went on to discuss how Huhne's secret could become a story for the Sunday Times.
"Vicky was very much interested in telling her side of the story," Ms Oakeshott told the court.
"Vicky was a very, very hurt woman and she was quite clear that she felt that Chris, her former husband, did not deserve to be in the position of immense responsibility he had at that time.
"I think it was very clear that she wanted to expose what she saw as his true character."
Ms Oakeshott said her focus was "very much exposing a politician for having broken the law, not on whether or not there was an exciting story".
She said it had been Ms Pryce's idea to try and record Huhne admitting to the offence but their efforts had not produced a clear admission.
The recordings were heard by the jury on Tuesday and released to the public on Thursday.
Ms Oakeshott described how Ms Pryce wavered in how she wanted to proceed.
"Ms Pryce was in a very fragile state, she was very, very upset about the break-up of her marriage," she said.
"One day she would be feeling strong and very determined about a course of action, and then another day she would not be feeling so good.
"She was not sure whether she wanted the allegation to be out there in the public domain and I was not in any way trying to push her to do it."
The pair agreed the Sunday Times would run a piece on Pryce as a high-flying professional woman and her role as a political wife, and would drop in queries about Westminster rumours about the points.
The pair drafted a written agreement about the story, aimed at limiting the risk of Pryce being prosecuted, but Ms Oakeshott said she had clearly explained there was still a risk.
Ms Oakeshott described the "hue and cry" after the story was published on 8 May 2011 and said she was under pressure to run another story.
In one email, she urged Pryce not to get "into a lather" about her requests for a follow-up story.
Ms Pryce later severed all contact with her, she said.
'Broken woman'
Ms Oakeshott said she did not doubt Ms Pryce's story was true.
Of Ms Pryce, Ms Oakeshott said it "took very, very little to tip her into a tearful condition".
She said Pryce's image of a businesswoman wearing high heels and a suit was a sort of "armour" for her.
"This was a broken woman, her marriage had collapsed in the most dramatic and horrible of circumstances and she was clearly absolutely devastated over it, no doubt about that," said Ms Oakeshott.
"I got the impression that despite how she had been treated by her husband she was still very much in love with him, and it was really a terrible time."
The jury was told Ms Pryce did not comment during interviews with police.
The prosecution has now ended and the defence is due to open its case on Thursday afternoon.