Vicky Pryce trial: 'I felt ashamed and upset'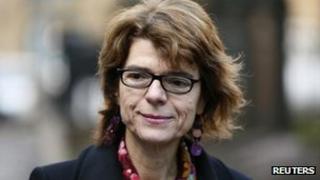 Chris Huhne's ex-wife has told a jury she felt ashamed and upset about talking to the Sunday Times after it revealed he had evaded speeding points.
Vicky Pryce had a written agreement of confidentiality but said the story included details she felt could reveal her as the person who took the points.
Ms Pryce told Southwark Crown Court she had just wanted to turn back the clock.
Ms Pryce denies perverting the course of justice. Huhne has admitted the charge and resigned as an MP.
She is claiming a special defence of marital coercion.
Ms Pryce, 60, said it left her feeling "exposed" when the front page story surfaced in May 2011, and she wanted not to have anything to do with it.
Being cross-examined by Andrew Edis QC, she said: "I just wanted to turn the clock back and not have anything to do with it."
The week after the story, journalist Isabel Oakeshott emailed her saying that not writing a follow up piece "was not an option" and Ms Pryce should not get in "a lather about it".
Ms Pryce said "I had been quite upset about the front page and in the end the article coming out because there was already a lot of interest from the press and I felt pretty bad and not happy about being involved with any of this and I wouldn't be able to control the story at all."
"I wished to have nothing to with it if I could. I felt quite ashamed and upset."
She added: "I was beginning to feel that actually I had been perhaps manipulated in a way and that things had probably been pushed too far."
Ms Pryce said she decided not to deal with the Sunday Times again after that.
Asked about her motives for going to the press, she said: "I wanted the story to go in the newspapers in the right way and because I wanted the story explained in the right way.
"If I had wanted to ruin my husband at the time I could have thought of lots of other things to expose publicly."
During cross-examination, Mr Edis challenged Ms Pryce's account earlier in the trial that Huhne stood in their hallway with a pen in his hand urging her to sign after a letter arrived with her named as the nominated driver.
Mr Edis suggested the only reason she said this was because her defence of marital coercion required a spouse to be physically present.
Ms Pryce said: "In fact it's probably one of my strongest memories of this whole sad affair, him standing at the hallway table, lots of paper around and the form, and being made to sign, so I am afraid it's absolutely true."
Ms Pryce told the court she insisted on having her fifth child when she fell pregnant in 1992 despite Huhne having demanded that she have an abortion.
She has already told the court Huhne pressured her into having an abortion in 1990 because it was "bad for his career".
"I woke up and knew how I had felt about the previous one and knew I couldn't do it," she said.
Former Liberal Democrat cabinet minister Huhne and Ms Pryce, an economist, were charged over an incident in March 2003 when his car was caught by a speed camera on the M11 between Stansted Airport in Essex and London.
It is alleged that between 12 March and 21 May 2003, Ms Pryce falsely informed police that she was the driver of the car so Huhne could avoid prosecution.