WWI Christmas truce football matches 'to be replayed'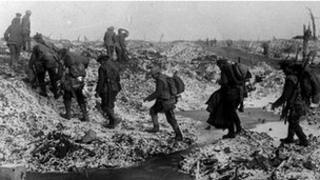 Football matches played during the Christmas truce of World War I could be recreated for next year's centenary celebrations.
Ministers are working on plans to commemorate the anniversary with a match on the battlefields of Flanders.
They are in discussion with the Football Association and the National Children's Football Alliance.
The unofficial truce took place at several places across the Western Front on Christmas 1914.
British and German soldiers stopped fighting and ventured into no man's land to talk, exchange gifts and play football. French and Belgian soldiers also took part.
'No-brainer'
Prime Minister David Cameron raised the possibility last year of football matches forming part of an extended series of events to mark the key moments.
Defence Minister Andrew Murrison said a football match was "a no-brainer in terms of an event that is going to reach part of the community that perhaps might not get terribly entrenched into this".
Speaking to the Guardian newspaper, Dr Murrison indicated the idea was being pursued but discussions were still at an early stage.
"I think football has a particular part to play because of the totemic significance of the Christmas truce in 1914," he said.
"We have been in touch with Football Association and the National Children's Football (Alliance) to see how this can be done. I know they are enthused and have already clocked the fact that other countries are thinking along similar lines."
He added: "It is clear the Christmas truce is going to be commemorated in a very significant way. It had no real relevance to the outcome of the war but at that deeply, intensely, personal level, it is something that people really do latch on to."
The UK government has pledged £50m for the commemoration of the centenary of the start of World War I.
World War I took place from 1914 to 1918 and claimed the lives of millions of young men - 947,000 of them from the British Empire.