Church Times marks 150th anniversary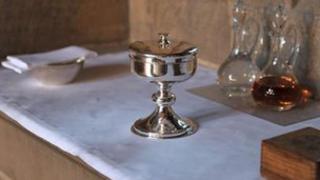 The 150th anniversary of the Church Times newspaper is being marked this weekend, following years of robust views about the Anglican faith.
The paper was founded in 1863 to represent the growing Catholic movement in Anglicanism.
The Church Times, which at first cost one penny, opposed women's suffrage and was caustic about other denominations.
It also described conscientious objectors in the World War I as "poltroons" or cowards.
The paper also once denounced clergy it considered unworthy, describing one bishop as a "pulpit mountebank" and another as "destitute of theological learning".
But it robustly supported Anglo-Catholics in the face of an 1874 law suppressing Catholic-style ritual - including the Rev Sidney Faithorn Green, jailed for more than 18 months for using incense and lifting up the bread and wine during Communion.
The BBC's religious affairs correspondent Robert Pigott said that since the 1950s the paper - which once counted former prime minister Edward Heath among its staff - has adopted a more centrist position, losing readers as congregations have dwindled, but establishing an online presence.
Marking what it called its "sesquicentenary", the paper acknowledges its next main milestone might be celebrated in a different format, our correspondent added.