Newspaper review: Fallout from horsemeat scandal continues
10 February 2013

From the section

UK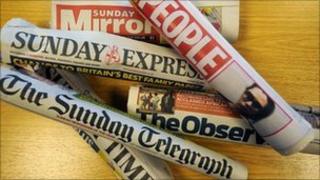 The continuing fallout from the horsemeat scandal, when such meat was found in products supposedly containing beef, makes further headlines in the Sunday papers.
"Stop horsing about, start sorting it out," is the message from the Mail on Sunday, which accuses the government of being extraordinarily slow to recognise the gravity of the horsemeat scandal.
The Independent on Sunday describes the situation as being "out of control", while the Sunday Telegraph calls it the "biggest food crisis in a decade".
The Observer also makes the case for more food regulation, not less. "If supermarkets won't voluntarily police themselves with genuine rigour, then the state will have to do the job for them," the paper says.
PE emphasis
The Daily Star Sunday says Environment Secretary Owen Paterson had better "up his game, or his career might be off to the knacker's yard too".
The Sunday Times reports all pupils are to be taught for the first time to cook at school in England, as part of a government drive to improve diets.
The Sunday Express reports that the Education Secretary, Michael Gove, is planning to put physical education at the heart of every child's schooling.
It says compulsory PE is to be brought back onto the national curriculum in England, putting it on a par with such subjects as English, maths and science.
According to the Sunday Times, the boss of Royal Bank of Scotland, Stephen Hester, is to receive a bonus of £780,000 just weeks after the bank was fined £390m for its role in the Libor-rigging scandal.
The paper says Mr Hester's bonus is likely to revive the controversy over pay and awards at those banks supported by the taxpayer.
RBS maintains that he should receive the payment - granted in 2010 - because he has had only one annual bonus since joining the bank five years ago.
Widow's plea
The Sunday People reproduces a letter a widow has written to the David Cameron.
In it, Julia Jones, 59, urges him to reconsider the proposals for tenants in social housing deemed to have a spare bedroom to move to a smaller property or face a cut in benefits.
She explains that she faces losing the home and garden where she scattered her husband's ashes.
The paper says the letter shames David Cameron and the coalition over their "wicked" bedroom tax.
The Sunday Mirror says Manchester United star Wayne Rooney has "sent an emotional message of support" to his tormented boyhood hero Paul Gascoigne.
Finally, as Valentine's Day approaches, the Telegraph says researchers in the United States have found that they can spot the signs of a true romance.
This is done by studying patterns of electrical activity in the brain of someone embarking on a new relationship.
The paper believes the findings could end the uncertainty of courting by revealing whether a couple are likely to have a long relationship, or whether their feelings will fizzle out.