Newspaper review: Inheritance tax thresholds discussed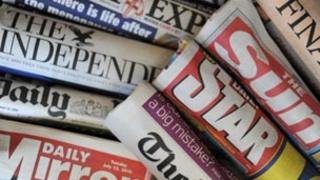 Many of the day's newspapers are taken aback by the government's plans to freeze the thresholds for inheritance tax to pay for the long-term care for the elderly in England.
The Daily Telegraph recalls that in 2007, George Osborne, then shadow chancellor, famously dissuaded Gordon Brown from calling a snap general election by promising to set the threshold at £1 million.
How quickly that has been forgotten, the Daily Mail complains.
The Daily Express says the freeze also contradicts what Mr Osborne was saying only eight weeks ago.
Then, he promised to raise the threshold in two years' time. Now, it is to be frozen until 2019.
Horsemeat criticism
The leader writers point fingers at those they see as responsible for confusion caused by the horsemeat scandal.
The Telegraph wonders why no-one from the Food Standards Agency has been seen or heard in recent days.
The Sun reserves its criticism for the Environment Secretary, Owen Paterson, who it describes as "hapless" and "flat-footed".
There is widespread coverage of the attack by a fox on a baby as he slept at his home in South London.
The Sun and the Daily Mirror have a picture of the baby with his hand heavily bandaged.
The Sun says Denny Dolan's mother wrestled the boy from the fox's teeth.
And an expert tells the Daily Express that it is the one person in the neighbourhood who leaves food out for foxes that is causing them to lose their fear of humans.
Attacks on humans will become more common if people treat wild animals like pets, he warns.
Lovers' lanes
The Mail's main story says only 15 of the more than 200 foreign nationals convicted for their part in the riots of 2011 have been deported.
According to the paper, a combination of European Union law and human rights rules is thought to be blocking efforts to deport them.
Ahead of Valentine's Day, the AA has named the Lovesome Hill beauty spot near Northallerton in North Yorkshire as the most romantically named place in Britain.
According to the Times, the Wiltshire hamlet of Lover, near Salisbury, is second on the list and Hearts Delight, near Sittingbourne in Kent, is third.
The AA also draws attention to Wedding Drive in Nottinghamshire - which also happens to be close to Drinking Pit Lane.