Chris Huhne 'constantly badgered' Vicky Pryce - daughter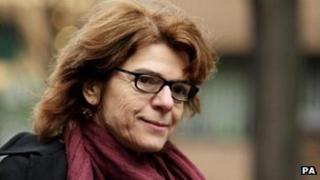 Vicky Pryce's eldest daughter has described Chris Huhne's "constant badgering" of her mother to take his speeding points, a court has heard.
Georgia Beesley told Southwark Crown Court she was frightened as to what his behaviour would do to their family.
She said, as a single person, she did not at the time understand the pressure there could be within a marriage.
Ms Pryce denies perverting the course of justice. Huhne admitted the same charge last Monday, resigning as an MP.
Liberal Democrat ex-cabinet minister Huhne and Ms Pryce, an economist, were charged over an incident in March 2003 when his car was caught by a speed camera on the M11 motorway between Stansted Airport in Essex and London.
It is alleged that between 12 March and 21 May 2003, Ms Pryce falsely informed police that she was the driver of the car so Huhne could avoid prosecution.
'Very insistent'
Mrs Beesley - who was about 25 at the time of the incident and not living at the family home - said her mother spoke to her about the speeding points in late spring or early summer of 2003.
She told the court: "I remember speaking to my mother and she told me that Chris had been caught speeding and was asking her to take speeding points.
"If he had taken the points he would have lost his licence. He was very insistent that she take the points for him," Mrs Beesley said.
Ms Pryce claims she was bullied by her husband into taking the points, a legal defence known as marital coercion.
Giving evidence, Mrs Beesley added: "He didn't want to lose his licence, he was standing for election and had to travel regularly to Eastleigh.
"He would say to her that if she didn't take them he would not be able to drive, that he would lose his licence, and that it would be her fault if he didn't get elected."
Mrs Beesley insisted her mother was upset and angry at the prospect and "obviously didn't want to take the points".
She continued: "We spoke about how she felt and what was happening at home and I remember her saying that [in] every conversation Chris was insisting that she took the points, that he just went on and on and said things like it wasn't a big deal and why wouldn't she do it.
"He couldn't understand why she wouldn't do it."
'No choice'
Mrs Beesley originally advised her mother not to take the points. When asked why by prosecutor Andrew Edis QC, she said: "I was single, I didn't understand the pressures that someone could be under in a marriage.
"I did not appreciate at that time what it would be like to be living with someone constantly badgering you to do something that you know was wrong and feeling like you don't have a choice."
Huhne nominated Ms Pryce as the driver without her agreement, and when the form arrived from the police, Mrs Beesley said her mother "felt pressured" into signing it.
Mrs Beesley went on to say that Huhne lost his licence anyway that summer, after being caught using his mobile phone while driving on 28 March 2003.
"A lot of comments were made around that time, 'I have got to drive you anyway, even though I took the points'. There was quite a bit of resentment."
Mrs Beesley explained she did not give a statement to police during their 2011 investigation because she "didn't want to speak to anyone" about the incident. She eventually made a formal statement to police in September 2012.
Describing the pressures she believed her mother to be under, Mrs Beesley said: "She was on her own a lot of the time, dealing with the children, holding the family together whilst Chris was often away.
"It was a very emotional time and the family was the most important thing."
The trial continues.