Newspaper review: Court work ruling divides opinion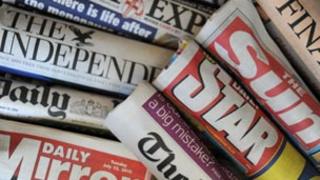 A court ruling - that a graduate on a welfare-to-work scheme should not have been ordered to labour for nothing in a pound shop - has divided opinion.
The headline in the Daily Mail is "utter madness".
By contrast, the Guardian has a leading article in praise of Cait Reilly, the disgruntled graduate who took her complaint to law.
The Daily Telegraph thinks the "central pillars of the workfare scheme" have survived the case.
Living wage
It points out that the judges did also say the jobseekers' allowance is not a human right, and the state is entitled to withdraw it from those who refuse reasonable work placements.
But the Times says the decision has thrown the government's programme into a state of "advanced chaos". "In crisis," says the Independent.
The Daily Express says ministers have no intention of paying millions in compensation to people who have lost benefits because they did not co-operate.
The Sun thinks the government is right to press on - "however much its enemies squeal".
But the Daily Mirror argues that the real problem is a shortage of jobs that pay a living wage - and says ministers should concentrate on creating more of them.
Heart problems
The Pope's resignation came as such a surprise that the papers are still mulling it over.
The Daily Mail reports on speculation that his decision was connected to argument inside the Vatican about the proper treatment of senior priests who let sexual abuse by clergy continue.
But the Daily Mirror thinks his departure may have been hastened by his heart problems.
The Guardian says there are "lingering doubts" about the Pope's reasons.
"Rumours swirl," says the Independent.
Whatever the outgoing Pope's eminence as a thinker and a theologian, the Times thinks he showed "little aptitude for management".
Macabre humour
The BBC finds itself taken to task, in the Daily Telegraph, because of the way it portrays Harold Wilson in a tribute programme being shown on Thursday.
Lord Donoughue, who worked as a close adviser to the Labour prime minister, is concerned the TV special will play down Wilson's pipe smoking.
He tells the paper that Wilson may not have smoked a pipe much in private - but he always had one to hand in public so when asked a difficult question he could fiddle with his lighter and buy himself time before answering.
Lord Donoughue fears the producers have been affected by "politically correct censorship".
The BBC says no scenes have been cut.
Finally, the spate of revelations about horsemeat has unlocked a rich vein of macabre humour for the cartoonists.
One in the Financial Times shows a horse looking warily at a vet preparing a syringe.
The horse says: "I don't usually do drugs - but if it'll keep me out of the food chain, go ahead."