Jury retires in terror trial of Birmingham men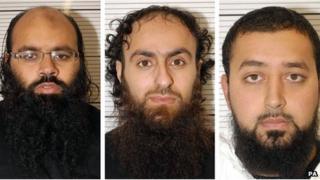 Jurors in the trial of three Birmingham men accused of a bomb plot that prosecutors said could have caused mass deaths are considering their verdicts.
Irfan Naseer, 31, Irfan Khalid, 27, and Ashik Ali, 27, are accused of being "central figures" in a terror plan.
Jurors at Woolwich Crown Court, in London, were told they planned to set off up to eight bombs in rucksacks and possibly detonate bombs on timers.
The men have denied the terror charges levelled against them.
Prosecutor Brian Altman QC told the court the police "successfully disrupted a plan to commit an act or acts of terrorism" that he claimed was "on a scale potentially greater than the London bombings in July 2005".
"The defendants were proposing to detonate up to eight rucksack bombs in a suicide attack and/or to detonate bombs on timers in crowded areas in order to cause mass deaths and casualties," he said.
Hoax defence
The men have been accused of raising £12,000 by posing as Muslim Aid charity street collectors, and applying for tens of thousands of pounds in loans after losing more than £9,000 of the money on the foreign currency markets.
The court has also heard that the defendants were watched and recorded by police in a car travelling around the city.
Mr Naseer has claimed that he and Mr Khalid feared for their safety after a dispute at a mosque, and he wanted them to be feared so he lied about al-Qaeda links and knowledge of explosives.
He also told jurors that he and Mr Khalid were trying to dupe other people out of money in an elaborate hoax.
Mr Khalid did not give evidence.
However, his father told the court a medical condition would have made it unlikely he could have taken any practical part in carrying out an attack.
And Mr Ali said he was working for a rival Islamist group to try to get al-Qaeda contacts.
Pakistan training claims
He told the court he did not believe the attacks would be carried out, but he would have gone to the police if the alleged plan reached a dangerous stage.
Mr Naseer, from Sparkhill, faces five counts of engaging in conduct in preparation of terrorist acts.
Mr Khalid, from Sparkbrook, faces four such charges and Mr Ali, from Balsall Heath, is accused of three.
The charges relate to the period between Christmas Day 2010 and September 19 2011.
For Mr Nasser and Mr Ali, alleged offences are said to have included planning a bombing campaign, collecting money for terrorism and recruiting others for terrorism.
The pair have been accused of travelling to Pakistan for training in terrorism.
Mr Naseer has also been accused of helping others to travel to the country for the same purpose.