UK to build human rights alliances, says William Hague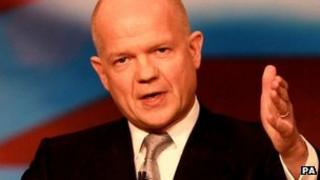 A new emphasis on building justice and human rights alliances with countries in the fight against terrorism has been outlined by the foreign secretary.
William Hague said this would make it easier to share information about terror plots with other nations.
Mr Hague gave a speech at the Royal United Services Institute in London.
The speech comes after the attack on a gas facility in Algeria last month and concern about al-Qaeda in North Africa.
Different standards
The UK is faced with dilemmas over how closely it works with with governments as the threat in North Africa becomes more acute.
Britain lacks established relationships with these government, which sometimes work to different standards.
Mr Hague said that rather than either avoiding such relationships or engaging with them in a piecemeal manner, there will now be a new approach.
This would have aims include improving the standards of local police forces and security services and ensuring human rights are respected in detention facilities.
The government hopes this will make it easier for the UK to work more closely and productively with governments while minimising the risks of Britain ending up involved in controversial relationships.
Serious ethical and legal questions have been raised in the past.
'Stark choice'
Mr Hague said: "When we detect a terrorist plot originating in a third country, we want to be in a position to share information to stop that planning, and do it in a way that leads to the arrest, investigation and prosecution of the individuals concerned in accordance with our own legal obligations, and with their human rights respected at every stage.
"In many cases, we are able to obtain credible assurances from our foreign partners that give us the safeguards we need and the confidence that we can share information in this way.
"Where this is not the case we face a stark choice. We could disengage but this would place our citizens at greater risk of terrorist attack, in the UK or overseas.
"Or we can choose to share our intelligence in a carefully controlled way while developing a more comprehensive approach to human rights adherence.
"This approach brings risk but I am clear that the risks of the first option, of stepping back, are greater still."
Six British nationals were killed when Islamist militants attacked a BP gas plant in Algeria last month.
The British government has also had to pay out compensation to some terror suspects over claims of collusion in their torture while they were detained abroad.
Cori Crider, legal director at the human rights charity Reprieve, said: "We've been here before - from Afghanistan to Libya, the UK has handed over detainees or colluded in renditions, knowing that the result will be that people face torture.
"The government has sought to spare its blushes by obtaining 'assurances,' but these have not been worth the paper they were printed on. William Hague is trying to find a way to join hands with the torturer while keeping his own hands clean - it just won't work."