Newspaper review: Horsemeat handling comes under fire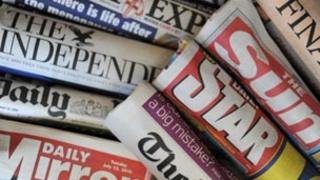 There is lots more on the horsemeat saga in the papers.
The Times says the government was warned last summer that a European Commission ban on cheap methods of lamb and beef production meant that unlawful meat would be imported from Europe as manufacturers sought alternatives.
The Food Standards Agency comes under fire in the Daily Mail.
Leo McKinstry asks: "What's the point of a food safety quango that couldn't save us from eating stallion burgers?"
"Once the immediate crisis is over," says the Independent, "there will be sharp questions for the FSA to answer."
Zenith of power
According to The Independent Barack Obama's State of the Union speech showed him to be confident - and visibly liberated by the knowledge that he will never have to face the voters again.
American presidents can, of course, serve a maximum of two terms.
"The sense of a new assuredness in the president," it says, "was unmissable."
The paper calls him "a president at the zenith of his power".
The Daily Telegraph reports a study that found that more than half of drivers had been distracted by too many road signs - with many blaming them for causing an accident.
The Department of Transport apparently admits there are about 9,000 redundant signs on the roads.
Education disrupted
According to The Guardian, a London council is planning the largest single displacement of poor people from the capital in the wake of the government's welfare reforms.
The paper says Camden council will be contacting more than 750 families - more than 2,800 adults and children - because the coalition's £500-a-week benefits cap mean they will be unable to afford their accommodation.
They face being moved up to 200 miles away.
The council says it is looking as far afield as Birmingham and Bradford, and says 900 schoolchildren face having their education disrupted.
Runaway car
Finally, the the Telegraph and the the Independent tell how a French driver hurtled along motorways at 125mph for more than a 100 miles unable to slow down or stop.
A fault had developed with his Renault, which had been adapted for disabled drivers, causing its speed regulator to jam.
The car was escorted by police at breakneck speed as it crossed into Belgium and three toll stations were forced to raise their barriers as the car approached.
It eventually ran out of petrol and ended up in a ditch.
The driver is planning legal action.