Vicky Pryce jury considering verdict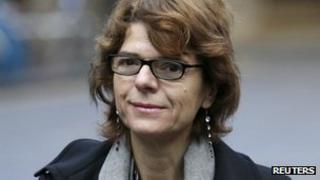 The jury in the trial of ex-minister Chris Huhne's former wife Vicky Pryce has retired to consider its verdict.
Ms Pryce, 60, is charged with perverting the course of justice by taking the former Lib Dem MP's speeding points in 2003.
She denies perverting the course of justice, saying her now ex-husband coerced her into taking the points.
Huhne has admitted the same charge and has resigned as an MP. The 58 year-old could now face a prison sentence.
In his closing address, made on Monday at Southwark Crown Court, prosecutor Andrew Edis QC said Ms Pryce was one of the UK's "most powerful, talented, intelligent" women and not "the quivering jelly kind" and took Huhne's points "because she chose to do so".
But addressing the jury, her defence barrister said she was a "woman of integrity" with the same emotions and frailties as anyone else.
Ms Pryce has adopted a defence of marital coercion, claiming Huhne forced her into signing a form he had already completed in her name.
In his earlier summing up, the judge outlined Ms Pryce's defence, telling jurors a wife is morally blameless in law if she commits an offence only because her husband was present and coerced her.
Mr Justice Sweeney said a not guilty verdict would require the jury to agree that she had no choice but to do as her husband ordered and that he was present at the time she signed the paperwork as she said he was.
If the jury, however, decided that Huhne was not present when Ms Pryce signed the form they should find her guilty, he said.