Newspaper review: Papers mourn death of Richard Briers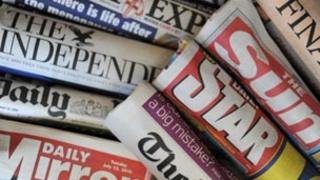 The death of actor Richard Briers dominates much of the day's newspapers.
"Goodbye to Mr Good Life", is the Daily Mirror's tribute on its front page to Mr Briers, who died from the lung disease, emphysema, at the age of 79.
As the Daily Mail reports, the actor told the paper shortly before his death, "500,000 cigarettes. It's totally my fault."
The front pages of the broadsheets also report the death of Mr Briers.
He was best known for playing Tom Good who escaped the rat race in The Good Life, as well as the busybody Martin Bryce in Ever Decreasing Circles.
Pistorius trial
The Daily Telegraph's Michael Hogan says the actor had a knack of choosing parts that made him loved, and "playing them to perfection".
Many of the tabloids continue to report on the allegations surrounding the South African athlete, Oscar Pistorius.
He is accused of murdering his girlfriend, Reeva Steenkamp.
There are claims in the Mirror of a previous accidental shooting by Mr Pistorius and in the Sun of shots mistakenly fired in the dark.
But the Independent says with rumours "swirling around" and no contempt laws in South Africa the case is becoming a "trial by media".
The Mail and Telegraph are reporting that laws dating from the 16th Century which can stop a neighbour from going ahead with an extension or loft conversion if it blocks out sunshine, could soon be "blotted out".
NHS 'failings'
Heather Frost - a 36-year-old unemployed mother with 11 children and two grandchildren - appears on the front pages of several tabloids.
She has drawn widespread coverage and criticism in many of the papers after her local council in Tewkesbury in Gloucestershire decided to build a six-bedroom house for her family, which the Sun says will cost £400,000.
According to the Times, the two-storey property will have three bathrooms, two lounges and a 355-square foot kitchen and dining area.
And the Times also says the government is admitting that some children - as many as 1,600 every year - are dying because of failings in the NHS.
According to the paper, more than a quarter of child deaths are the consequences of "identifiable failures" in care, and 43% involved "potentially avoidable factors".
And the Guardian reports that dieters who eat muesli and vegetables have been misled by an outdated system which does not take into account the calories in fibre.