Wednesday's Newspaper Review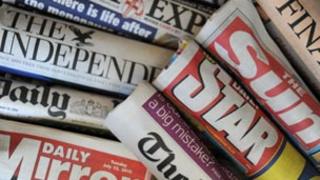 Hilary Mantel's remarks concerning the Duchess of Cambridge gain considerable coverage.
The Daily Mirror focuses on what it describes as David Cameron's "anger" over the comments, under the headline: "Lay off Princess Kate."
"Britain thinks Kate's great," says the Daily Express, "she looked radiant yesterday" and "proud of her emerging baby bump".
"She should take no notice of a few sour-faced cynics."
However, according to Matthew Norman in the Independent, "Kate Middleton needs more friends like Hilary Mantel".
Energy prices
He says that what the Daily Mail front page on Tuesday described as "an extraordinary and venomous attack" was quite the reverse.
"If anyone was in the crosshairs of Mantel's telescopic sight," he writes, "it was those, like the Mail, who fixate on vulnerable royals such as Diana and now Kate, without a care for the consequences."
The Guardian agrees, describing Ms Mantel's lecture as a "thoughtful and sympathetic reflection about the duchess and about royal women down the ages".
The warning from the outgoing head of Ofgem, Alistair Buchanan, that people will have to pay more for gas and electricity over the next few years sparks a lot of reaction too.
Catherine Mitchell, a professor of energy, writes in the Daily Mirror that in 30 years, she has never seen such disarray over the way forward.
According to Daily Express columnist Stephen Pollard there is no starker example of the disconnect with the political classes than boarding up power stations that are in full working order to satisfy the green lobby.
"In a sane world," says the Daily Mail, "ministers would immediately suspend their green edicts, scrap green taxes on energy bills, and keep open existing coal power stations until we are producing enough clean power."
Testing times
According to Times, ministers have taken "a first step to politicise the civil service" by appointing a string of "expert advisers" from outside Whitehall.
The individuals have apparently been put on temporary civil service contracts and will work closely with Cabinet ministers to drive through reforms.
A warning from the World Health Organization that chemicals found in every home may cause breast cancer, asthma and infertility is the lead in the Mail.
The paper says there could be a ban on what it calls the "gender-bending" compounds, which are found in a range of products including toys, PVC flooring, car dashboards and credit cards.
Finally, several papers report that a 26-year-old from London, who has not been named, has failed the driving theory test a record 107 times.
The Sun adds that someone else, from Stoke-on-Trent, has finally passed the practical test after 37 attempts.
The AA driving school tells the paper: "Everyone learns at their own pace."