Iranian torture guard refused UK citizenship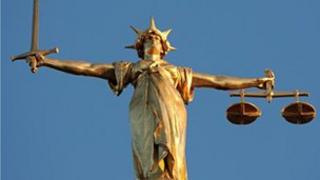 An Iranian army conscript has been refused UK citizenship after a judge ruled he had been too closely linked with "crimes against humanity".
Dariush Amirifard, 35, said he had to guard prisoners during their torture in Iranian jails in the late 1990s and was granted UK asylum after fleeing Iran.
In March 2011, the home secretary refused to granted him citizenship.
Upholding the decision, Mrs Justice Lang said Mr Amirifard had failed to prove he was now "of good character".
Mr Amirifard had challenged Home Secretary Theresa May's original decision on the grounds that he had been traumatised by what he had witnessed as a "conscript acting on orders".
Nightmares
The 35-year old was assigned to the Iranian Jail Organisation after his conscription as a young man, and sent to work at Shiraz Prison, in the south of the country.
The High Court in London heard he had fled his job after a year, claiming he "could not bear it any longer".
He said he had suffered nightmares and mental health problems after guarding prisoners being tortured. He also had to remove bodies after executions by stoning.
Mr Amirifard was eventually captured by the Iranian authorities and sentenced to a month in prison with an additional four months of compulsory military service.
He was released early and transferred back to work at the prison holding university students detained without trial.
According to an account accepted by UK immigration authorities, he refused to shoot at the detainees after they had started a riot, and was himself imprisoned and subjected to torture.
'Barbaric methods'
After fleeing Iran he was granted asylum in the UK in May 2003 and was told by Mrs May he had indefinite leave to remain in the country.
However, the home secretary subsequently refused to grant his citizenship request.
Finding in favour of Mrs May, Mrs Justice Lang acknowledged Mr Amirifard had not committed any acts of torture himself, but had however "facilitated and aided and abetted such acts by acting as a guard".
She said Mr Amirifard "knew that the prison service was using barbaric methods - he witnessed crimes against humanity at first hand and he played a part in guarding the victims".
The judge ruled the Iranian could not establish he was now of good character, having been involved in crimes against humanity, and could not prove he had been acting under duress as he had not been subjected to "imminent death or serious bodily harm".