Vicky Pryce jury given majority direction in points case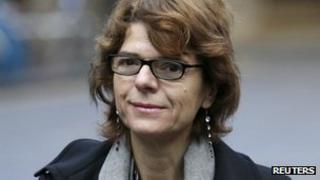 The judge in the trial of ex-minister Chris Huhne's former wife Vicky Pryce has told the jury he will accept a majority verdict.
Ms Pryce, 60, of Clapham, south London, is accused of perverting the course of justice by taking the former energy secretary's speeding points in 2003.
She has denied the charge, saying he coerced her into taking the points.
Huhne, 58, has admitted the same charge and resigned as Liberal Democrat MP for Eastleigh, in Hampshire.
The jury at Southwark Crown Court had been deliberating for 13 hours and 48 minutes, over several days, when Mr Justice Sweeney told them he would accept a verdict on which at least 10 of them were agreed.
Huhne and Ms Pryce, an economist, were charged over an incident in March 2003 when his car was caught by a speed camera on the M11 between Stansted Airport, in Essex, and London.
It is alleged that between 12 March and 21 May 2003, Ms Pryce falsely informed police that she had been the driver of the car so Huhne could avoid a driving ban.
'Critical issue'
The judge answered questions posed by the jury. He started by asking them to pause and remind themselves "of the basics".
Mr Justice Sweeney said whether Ms Pryce was the victim of marital coercion was the "critical issue".
He told the jurors if any one of them was unable to follow his directions, they were not able to reach a true verdict.
BBC home affairs correspondent Dominic Casciani tweeted that the judge told the jury: "Drawing of inferences is permissible. Speculation is not. You need to be sure your inference/common sense conclusion is correct."
Among the questions the jury asked the judge was whether "a juror could reach a verdict based on a reason not presented in court that has no facts or evidence to support it".
Mr Justice Sweeney told them they could not and cautioned them against speculation.
Sending the jury back to their room to further consider the allegation, Mr Justice Sweeney told them there were occasionally trials in which a jury could not agree in sufficient numbers one way or another or found themselves unable to reach a verdict at all.
He said: "If after further consideration you find yourself (in that position) then you must, of course, have the courage to say so."
Huhne, who could face a prison sentence, is due to be sentenced after his ex-wife's trial.
A by-election is being held in Eastleigh on 28 February to find a replacement for Huhne.