Bradley Manning supporters stage UK events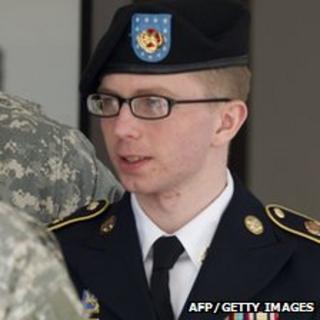 Events have been held across the UK, and the rest of the world, to mark the 1,000th day spent in prison by alleged Wikileaks source Bradley Manning.
Pte Manning, 25, was detained in May 2010 in Iraq on suspicion of passing secret files to the website.
The US Army analyst faces 22 charges, including aiding the enemy. If convicted, he could be jailed for life.
Events were scheduled across the US and Europe, including in London, Edinburgh, Yorkshire and Cardiff.
Campaigners gathered outside the US embassy in London until the protest finished at about 16:00 GMT.
Some of them then moved on to the Ecuadorian embassy, where Wikileaks founder Julian Assange took refuge last June.
Mr Assange, 41, faces extradition to Sweden over sexual assault claims - allegations he denies.
He fears onward extradition to the US to face charges over the leaked files.
Trial start
Whistle-blowing website Wikileaks became known for publishing sensitive material from governments and other high-profile organisations, including thousands of US embassy cables.
Pte Manning's trial is expected to start on 6 March.
Last month, a military judge at a pre-trial hearing in Fort Meade, Maryland, ruled Pte Manning would have 112 days taken off his sentence if he is convicted. The judge said Pte Manning had suffered illegal punishment during his nine-month detention following his arrest.
Pte Manning wants the charges dropped because of his ordeal.
He has offered to take responsibility for leaking more than 250,000 diplomatic cables and classified files to Wikileaks - but the US government is still planning to prosecute him on all 22 charges.