Abu Qatada's family win injunctions against demonstrators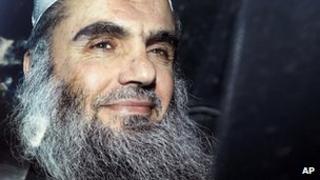 The family of radical cleric Abu Qatada has won an injunction preventing protesters from demonstrating directly outside their home.
His wife and five children were granted an anti-harassment order by a High Court judge in London.
The judge said demonstrations could still take place but they have to be more than 500 metres from the Qatada home in London.
Last year, a court blocked the cleric's deportation to Jordan.
Home Secretary Theresa May's appeal against that decision is due to be heard on 11 March.
The Palestinian-born Jordanian faces a re-trial in Jordan for allegedly conspiring to cause explosions on Western and Israeli targets in 1998 and 1999. He was found guilty of terrorism offences in his absence in Jordan in 1999.
Second injunction
At the High Court, Mr Justice Silber said evidence showed the claimants, including two children under the age of 16, "have suffered extreme distress and upset" by the actions of demonstrators directly outside their home.
He accepted the evidence they were "effectively prisoners in their home" while the demonstrations were taking place.
He said the protests had "terrified" the family, particularly the younger children.
There was "powerful evidence" from the claimants of weekly demonstrations "with much shouting of abuse" such as "Abu Qatada off our streets" and "All Muslims are terrorists" and calls for him to be killed.
The legal action was brought against a number of groups, including English National Resistance, Britain First and the English Defence League, as well as against "persons unknown who are intending to assemble outside the home".
The defendants argued the injunctions would interfere with their rights under the European Convention on Human Rights - in relation to freedom of thought, expression, and of assembly and association.
The judge pointed out Abu Qatada, whose real name is Omar Othman, was not a party to the proceedings.
He emphasised the case was not concerned with whether "Omar Othman should still be in this country or whether he should be in prison in this country" and was also not concerned with whether he or his family "should be provided with a house financed by the United Kingdom taxpayers".
It was accepted "that it is perfectly legitimate" for there to be protests about his presence in the country and about the house provided to his family.
The injunctions granted continued previous orders made by another High Court judge earlier this month.
As well as the anti-harassment order, Mr Justice Silber granted a second injunction restraining the defendants from communicating or disclosing personal matters relating to the wife and children, such as their address, names, names of schools, and also images of them.
Abu Qatada was released on bail from Long Lartin prison, in Worcestershire, in November after spending most of the last 10 years in custody.
He was released after he won the latest round of his long-running deportation case. Immigration judges ruled there was a risk that evidence obtained through torture could be used at his retrial in Jordan.