Vicky Pryce felt 'practically suicidal' when Huhne left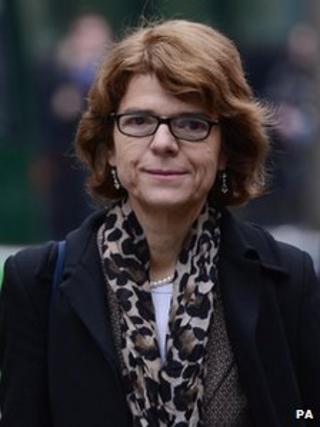 The ex-wife of Chris Huhne has told her retrial she felt "practically suicidal" after he left her and was not thinking straight when she took the speeding points story to the papers.
Vicky Pryce admitted her decision to speak to journalists had not been "a fantastic plan".
She denies perverting the course of justice by taking speeding points for the former Lib Dem minister in 2003.
Last week, her trial was halted after the jury failed to reach a verdict.
Ms Pryce claims she was coerced by her then-husband into taking the points.
Nine points
Huhne and Ms Pryce were charged last year over an incident in March 2003 when Huhne's car was caught by a speed camera on the M11 between Stansted Airport, in Essex, and London. He was an MEP at the time.
It is alleged that between 12 March and 21 May 2003, Ms Pryce, 60, from Clapham in south London, falsely informed police that she had been the driver of the car so he could avoid prosecution.
Huhne had a history of speeding and was in danger of losing his licence, having already accrued nine penalty points.
Cross-examining at Southwark Crown Court, Andrew Edis QC said Ms Pryce, an economist, had taken the speeding story to the Mail on Sunday and Sunday Times because she wanted to destroy her husband in an act of revenge.
She had not been motivated by wanting to speak out in the public interest, he said.
He accused her of trying to manipulate journalists in 2010 and 2011 into protecting her distinguished career by hiding her own criminality.
But Ms Pryce said she had been in "a terrible state" when she had been speaking to journalists.
"I was angry and upset. I was practically suicidal - I was not thinking through these things straight. It was not a fantastic plan," she said.
Mr Edis said: "By doing what you did [taking the points in 2003] you inflicted a criminal on the voters of Eastleigh."
"On reflection, yes," she replied.
Earlier, Mr Edis also asked her about the extent to which she and her then husband had tried to cover up the offence - but Ms Pryce said their children knew what had happened, as did her brother.
"The children were told to keep their mouths' shut?" asked Mr Edis.
"Not really,' she replied. "It was something that I would discuss in the family."
She denied that she had caused "an utter catastrophe" for her children by going to the press.
Later, referring to Ms Pryce's decision to go to the media, Mr Edis said it was "a calculated course of conduct that was disastrous for your family".
She replied: "No, what was disastrous was the break-up, the children have remained very close to me."
When Mr Justice Sweeney asked her why she had not gone to the police rather than the press, she said: "On reflection I may well have been better off doing precisely that, but at the time I didn't really want either of us to be prosecuted."
On Tuesday, the court heard Ms Pryce had told journalists about the story to get revenge on Huhne after he had left his wife for PR adviser Carina Trimingham in June 2010.
Huhne resigned as MP for Eastleigh earlier this month after pleading guilty to perverting the course of justice.
The trial was adjourned until Friday or Monday.