Egypt balloon tragedy: Survivor's tribute to dead wife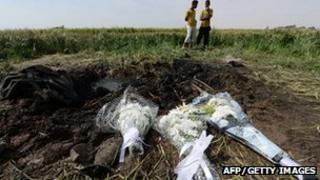 A British survivor of the Egypt hot air balloon tragedy has paid tribute to his wife who was killed in the crash.
Michael Rennie, 49, who remains in a stable condition in hospital, said: "Yvonne was my rock, my friend, my shoulder to cry on. She was my world."
He survived the crash, near Luxor, on Tuesday, along with the pilot.
Joe Bampton, 40, from London, and his Hungarian-born girlfriend Suzanna Gyetvai, 34, were among the 19 people killed when the balloon exploded.
A statement, issued by the Foreign Office on behalf of Mr Rennie, said: "My heartfelt condolences go out to the other families that have lost relatives around the world in this terrible disaster."
He also thanked staff at hospitals in Cairo and Luxor, the British Embassy and Thomas Cook for their help.
Other relatives have paid tribute to Mrs Rennie, 48, from Perth, as "very popular and well-liked".
The Egyptian authorities have grounded all hot air balloon flights in the country, while they investigate the crash.
The balloon is said to have been 1,000 ft (300m) up when it exploded, caught fire and fell on to agricultural fields.
Witnesses described hearing a loud explosion before seeing plumes of smoke as it caught fire. They also reported seeing people jump out of the balloon.
Earlier, Mr Bampton's mother Maureen paid tribute to her son and his partner.
Mrs Bampton said the couple were "wonderfully creative and sensitive individuals who lived life to the full and enjoyed being in Clapham Common with their dog Ollie".
She added: "Joe and Zsi will be sadly missed by their families, and work colleagues and their many, many good friends."
'Tragic loss'
Mrs Rennie had worked as a senior administrative officer at Perth Royal Infirmary. It is understood her husband is employed in the construction industry.
Workers spoke of their shock at her death.
Douglas Mitchell, Perth Royal Infirmary's radiology manager, said: "We are in shock at the sudden and tragic loss of Yvonne.
"She was a much-loved colleague who enjoyed her job, and her tragic passing has had a huge impact on all of us who knew and worked with her. She will be sadly missed."
Their neighbour Linda Kettles said the couple had moved from Dundee to Perth about 10 years ago and although they had been together for a "long time" they were married only recently.
Speaking to the Sun newspaper, Mr Rennie's father John, 80, said: "It's terrible. They were very much in love and Yvonne was very popular and well-liked."
The cause of the crash is still being investigated but is believed the balloon had been in the process of landing when a landing cable got caught around a gas tube and a fire erupted on board. The balloon then quickly gained altitude before the fire caused the gas canister to explode.
The other passengers who died included holidaymakers from France, Hong Kong and Japan.
Balloon rides are a popular way to see the numerous ancient sites which line the banks of the River Nile at Luxor, in the south of Egypt, such as the temple of Karnak and the royal tombs in the Valley of the Kings.