Vicky Pryce wanted 'revenge' over Chris Huhne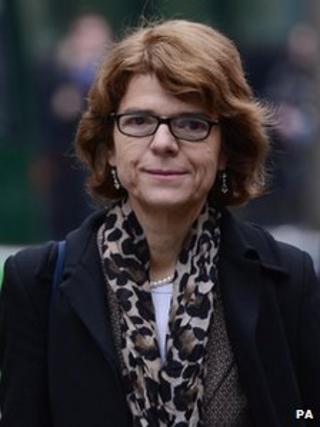 The ex-wife of Chris Huhne took the story about accepting her husband's speeding points to the newspapers because she wanted revenge, she has admitted at her retrial.
Asked by Andrew Edis QC, prosecuting, if her "chosen weapon" was the points, she replied: "Yes, absolutely right."
She denies perverting the course of justice by taking points for the ex-Lib Dem minister in 2003.
Her trial was halted last week after the jury failed to reach a verdict.
Huhne and Ms Pryce were charged last year over an incident in March 2003 when his car was caught by a speed camera on the M11 between Stansted Airport, in Essex, and London. He was an MEP at the time.
It is alleged that between 12 March and 21 May 2003, Ms Pryce, 60, from Clapham in south London, falsely informed police that she had been the driver of the car so he could avoid prosecution.
Huhne was in danger of losing his licence, having already accrued nine penalty points.
On Wednesday, Southwark Crown Court heard she had subsequently taken her story to the Mail on Sunday and Sunday Times.
When asked by Mr Edis on Friday if her motive was revenge, she said: "A lot of it was revenge, yes."
She also said she was "ashamed" that she went to the papers in 2010 about Huhne's points, but at the time she "had lost it".
Asked exactly what happened in 2003, she told the court Mr Huhne had called her downstairs and was standing in the hallway with a pen in his hand with the speeding form, which he asked her to sign.
She said Mr Huhne had told her it was "ridiculous" when she would not and urged her to "stop this nonsense".
She faced "threats by implication" to their marriage if she did not sign, she added.
Ms Pryce said she then agreed to sign the documents, adding that "the tipping point" was his "threatening behaviour".
Asked by Mr Edis why she had never told anyone about the incident in the hallway, she said there was "a limit" on what she shared with other people.
Ms Pryce told the trial it had been a "very embarrassing incident" which she greatly regretted.
Huhne resigned as MP for Eastleigh earlier this month after pleading guilty to perverting the course of justice.
Lib Dem candidate Mike Thornton has won the vacant seat in the Eastleigh by-election.