Force police retirement 'about efficiency'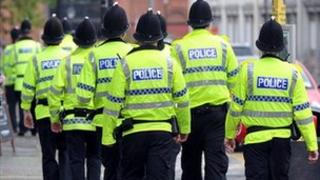 Forcing police officers who have served more than 30 years to retire is not just about saving money but keeping forces "efficient and effective", a tribunal has heard.
Deputy Chief Constable Dave Thompson, from West Midlands Police, said the force was facing a 20% budget cut.
He said they had remodelled the force with these "constraints" in mind.
West Midlands is among five forces facing claims by officers who say they were indirectly discriminated against.
The government said in October 2010 it was to cut police funds following a spending review.
Hundreds of officers were made to retire under Regulation A19, which means those below chief officer rank can be required to retire after 30 years "in the general interests of efficiency".
A number of test cases - brought against the Nottinghamshire, Devon and Cornwall, North Wales and South Wales Police forces as well as West Midlands - are being heard at the tribunal in central London.
'How to re-model?'
Mr Thompson told the tribunal that bosses had looked at the efficiency of the force as a whole, rather than individuals.
"Faced with an enormous reduction in budget, clearly the way the force had configured, even by April that year, would not be a sustainable way of running an efficient and effective force," he said.
"This wasn't simply 'how quickly can we drop the costs of the organisation?', it was 'how can we re-model an organisation to deal with the constraints that we've got?'"
West Midlands is facing a claim by former chief superintendent Deborah Harrod, who Mr Thompson admitted was "a good officer".
But he added: "I think she had a good CV, but I had other officers with similar standards of service.
"She had some very good skills, but unfortunately the broader position the force was in, and the need to work with a much smaller work force, it ended her career."
'Simply devastating'
In a statement submitted to the tribunal, Ms Harrod claimed that the force's use of A19 was "a misguided attempt to cut costs" and was implemented as "a blanket policy", rather than being used case by case as originally intended.
Ms Harrod said in her statement: "The impact upon me of my enforced retirement has been simply devastating.
"For the previous 24 years, my working life was dedicated to delivering policing to the public of the West Midlands and this was taken away from me at what I believe was the pinnacle of my career.
"Overnight, I went from a highly successful, highly trained, highly experienced senior manager with the prospect of being appointed to an executive position within Acpo (the Association of Chief Police Officers), to being unemployed."
She also had to sell her house to try to make up for lost income after stopping work.
The tribunal continues.